Land value tax costs unveiled by Scottish Greens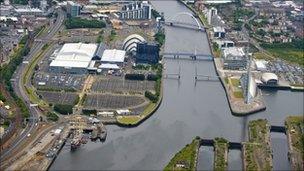 A land value tax of 3.16p per pound would generate enough cash to replace council tax and the uniform business rate, the Scottish Green Party says.
New research commissioned by the party suggested Scotland's land, ignoring developments, was worth £120.3bn.
The Greens said LVT would make 75% of Scots households better off and would deter speculative land holding which it said "stifled enterprise".
It would also provide a new method for funding major public building projects.
The report, by land reform analyst Andy Wightman, worked out the amount of different types of land including residential, business and derelict areas.
The average value for each category was then calculated from government data and academic research to create the national total.
This figure was then used to calculate a tax rate of 3.16p per pound of value for the area, which would be paid by the owner of the land.
The Scottish Greens said this system of tax would benefit the economy and the poorest.
It said LVT would encourage land improvements because it would be payable regardless of whether or how well the land was actually used. It would also remove the "burden" of other taxes which may discourage land improvements.
Green MSP Patrick Harvie said it meant communities would benefit from infrastructure investments, which currently only gave "windfall gains" to landlords.
"For generations, property based local taxes have hit the poorest hardest and stifled enterprise," he said.
"Our tax revenues are invested in the community, providing improvements to the environment, infrastructure or local services.
"As the amenity of an area increases it is landowners who benefit most as the value of land increases.
"This is one of the causes of land speculation, and for too long this kind of unsustainable commercial behaviour has been allowed to distort our economy."
He called for the debate in Scotland to move away from "sterile arguments over council tax and local income tax".
Mr Wightman said Scotland was crying out for a fair, efficient and sustainable tax system.
"A land value tax would make three quarters of Scots households better off, tackle urban blight and land banking, and stabilise the housing market.
"Business, retail and industry will see major gains, and new incentives to develop their operations within the planning limits set by local government."
Related Internet Links
The BBC is not responsible for the content of external sites.