Big rise in Scottish firms appealing rates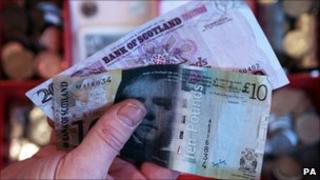 The number of businesses appealing against their rates assessment is up by 40% in some parts of Scotland.
Companies had until the end of September to challenge this year's non-domestic rates revaluation if they felt they were unfair.
The Scottish Chambers of Commerce (SCC) had said some businesses' rates rose by more than 200% this year.
However, the Scottish government said 60% of businesses were better or no worse off following the revaluation.
It said more than half of all firms were benefiting from reliefs and discounts worth £2.4bn over five years.
Many companies claimed this year's rates calculation was unfair because they were valued in March 2008 - when the economy was more buoyant.
They were also unhappy that transitional relief - which allowed big rates increases to be phased in - was scrapped.
Peter Muir, director with property adviser Colliers International, said he was not surprised to hear of a steep rise in appeals: "We're still in an unprecedented economic crisis and rates is one of businesses biggest outlays either monthly or annually for companies and if you've only got one chance to appeal it, you will."
'Early days'
Many assessors offices contacted by BBC Scotland said they had received appeals close to and even past the midnight deadline on 30 September.
Although many said it was too early to give an exact figure of the number of appeals, they could give an indication.
Assessors in Ayrshire believed their appeals were up 20 - 30% on 2005 and in Central covering Clackmannanshire, Falkirk and Stirlingshire, that figure was 40%.
Glasgow city said it expected appeals to be only marginally up and Edinburgh city predicted a rise of 20%.
Scottish Borders also expected to have to process a big increase in appeals.
Business rates are calculated every five years to determine what businesses should pay for central and local government services.
A Scottish government spokesman said the figures given to the BBC were based on a partial survey of assessors and therefore could only be speculative.
He said: "An accurate assessment of appeals will not be known while information is still being compiled by the assessors.
"It is premature to report on appeal numbers before that process has completed.‪" ‪
The Scottish government has said that introducing a transitional relief scheme similar to England would have transferred almost £77m this year from small to larger enterprises.