Tobacco firm loses legal battle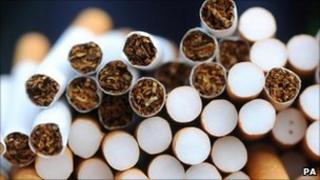 A leading tobacco company has lost a legal fight to stop Scottish Parliament legislation banning the display of tobacco products in shops.
Lawyers for Imperial Tobacco claimed the regulations on the sale of goods in Scotland were reserved to Westminster.
But judge Lord Bracadale dismissed the company's case at the Court of Session in Edinburgh.
The legislation, which comes into force next autumn, also includes a ban on cigarette vending machines in Scotland.
MSPs passed the Tobacco & Primary Medical Services (Scotland) Act in January this year.
Similar legislation is being introduced in England and Wales, and Lord Bracadale was told it was the intention to bring the measures into force at the same time.
'Legislative competence'
Imperial Tobacco argued that measures in the Scottish legislation related to matters reserved to the Westminster parliament.
It also claimed the laws would alter the freedom of trade provisions in the 1707 Act of Union between Scotland and England.
Imperial Tobacco said that the purpose of the legislation was to create offences over displaying cigarettes and using vending machines in order to regulate the sale and supply of goods to consumers, which was a reserved matter.
It also argued that consumer protection law covering the regulation of the sale and supply of goods was a matter for Westminster, although it was accepted that health and issues involving children and young people were for Holyrood.
Scotland's senior law officer, the Lord Advocate Elish Angiolini QC, contested the legal action.
She maintained that the purpose was the improvement of public health, especially for youngsters - which was within Holyrood's remit.
In his ruling, Lord Bracadale said none of Imperial Tobacco's challenges were well-founded.
He said that the new offence of displaying cigarettes in shops "does not prevent a sale being made, nor does it affect the terms of sale between the business selling tobacco products and the consumer purchasing them".
He said: "It is difficult to see how prohibiting the display at the point of sale can be said to relate to the regulation of the sale and supply of tobacco products to customers."
He added that any impact of the display ban and prohibition of vending machines on the regulation of sale and supply was "indirect".
The judge said a review of background materials, documents and parliamentary debates "points very strongly towards identifying the purpose of the sections of the 2010 act as being to reduce smoking of tobacco among children and young persons and thereby improve public health in the long-term.
"That purpose would not relate to a reserved matter."