Major type 1 diabetes data study launched in Scotland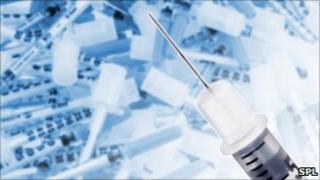 Biological information on 10,000 patients with type 1 diabetes is to be collected as part of a £676,000 scheme to develop a major research resource.
Biorescource - funded by Diabetes UK and the Scottish government - will run at clinics throughout Scotland.
Patients over the age of 16 will be asked to give blood and urine samples.
It is hoped this data, combined with each patient's medical history, will provide insight into causes and consequences of the condition.
The clinics will begin later this year in Aberdeen, Dundee, Dunfermline, Edinburgh, Glasgow, Kirkcaldy and Livingston.
Invaluable research
The study's co-ordinator Professor Helen Colhoun, from the University of Dundee, said: "This ambitious project will help us to identify and monitor new biological characteristics, which will be used to follow the progress and response to the treatment of patients with type 1 diabetes and to further our understanding of the causes of the condition."
She added that all information would be recorded anonymously to ensure patient confidentiality.
Scottish Health Secretary Nicola Sturgeon said: "We are delighted to be able to provide funding for this project which will be an invaluable research resource."
Diabetes UK said Scotland's unique electronic health record system would ensure that the project would have a huge impact over the coming years for new and ongoing research projects into type 1 diabetes across the world.
Scotland has one of the highest rates of the condition in the world.