Blind people struggling with NHS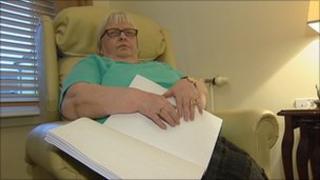 Blind and partially-sighted people are not getting information from the NHS in braille or other formats they can understand, according to research.
A survey found nine out of 10 people with serious sight problems had difficulty reading prescriptions, test results and other correspondence.
The study was commissioned by the Royal National Institute for the Blind.
It said some with sight loss asked other people to read letters containing confidential health information.
Alison Dudley, who lives in Edinburgh, is completely blind but only receives printed letters from the NHS.
As her husband is also blind they have to ask a friend or neighbour to read the contents to them.
Mr Dudley's requests for information to be sent in braille have been ignored.
Mrs Dudley told BBC Scotland: "They say 'who's your carer?'.
"I love that one. I have no 'carer'.
"I have a husband and we care for each other but no 'carer' in the modern sense of the word.
"So you're left to your own devices."
Research carried out by the Universities of Abertay and York on behalf of the RNIB found Mrs Dudley's experience was not uncommon.
Their survey suggested only one in 10 blind or partially-sighted people received information from the health service in a preferred format.
One of the researchers, Mhairi Thurston from Abertay University, said the health service was breaching people's confidentiality.
She said: "I think there are some direct breaches of confidentiality but it's also in the form of a stealth breach.
"The implications of having to rely on others hasn't really been thought about."
After having problems reading the labels of drugs dispensed by her local pharmacy Mrs Dudley and her husband gave them a braille machine.
Now pharmacists type out instructions in braille.
Mrs Dudley is unimpressed with NHS excuses that it is "too expensive" to communicate with her in a way she can access.
"I feel that we're going backwards," she said.
"Thirty or forthy years ago the medics would have been very sympathetic and have had time to read things to you.
"They took the time and trouble to explain things very clearly. No-one has the time anymore."
The RNIB is discussing its findings with MSPs on the Scottish Parliament's Health and Sport Committee.