New hunt for Mackintosh buildings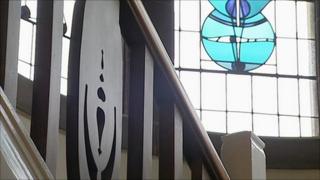 A major study has begun to identify buildings which may have been designed by Charles Rennie Mackintosh.
Over the next three years, historians will investigate almost 200 sites in a bid to establish their origins.
The project, by Glasgow's Hunterian Art Gallery, was inspired by the books of Honeyman Keppie, the architectural firm where Mackintosh worked for 24 years.
The Glasgow School of Art and the Scotland Street school are among his best-known buildings.
Mackintosh, who lived from 1868 to 1928, is one of Scotland's most famous architect and designers.
Most of his work in Glasgow was for Honeyman Keppie, which kept detailed records of all the projects on which they worked, including those of private customers.
David Stark, director of Keppie Design, said there could be many more Mackintosh buildings discovered.
'Dynamic period'
He said: "The people who were the first historians of Mackintosh in the 1950s and 60s were only really interest in certain types and styles of buildings, but we know that the architects were involved in much more than that.
"This project does give us a clean sheet and hopefully we'll know an awful lot more about Mackintosh than we do just now.
"From about 1894, Mackintosh was the chief designer in the practice so most of the projects going through the practice at the time would've involved Mackintosh in some way
He added: "The difficulty is proving definitively whose mind the design came out of and it will be extremely difficult to prove decisively where Mackintosh was involved and where he wasn't."
Pamela Robertson, senior curator at the Hunterian, said the aim of the study was to get a better understanding of Mackintosh's achievements as an architect.
She added: "What we hope to deliver at the end of the project in 2014 is a database online which will be a catalogue resume of Mackintosh's buildings ... available to a world-wide audience that will help raise the profile even further of Mackintosh and of Glasgow and that very dynamic period around the turn of the last century."