Scottish Power rejects underground power line move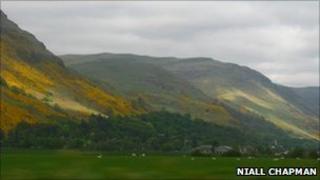 Scottish Power has ruled out proposals to bury part of the controversial new Beauly to Denny power line underground.
The firm, which is responsible for about 20km of the high-voltage line around Stirling, cited technical, environmental and economic reasons.
Instead, Scottish Power said it would use trees and shrubs to minimise the visual impact of the pylons, some of which will be as high as 200ft (60m).
The announcement coincides with the start of a 30-day public consultation.
The Beauly to Denny line will run for 220km (137 miles) through Scotland, taking renewable energy from the north of the country to consumers in the south.
It will consist of a network of 600 pylons and connect renewable power projects to the national grid.
Scottish Power is responsible for the construction of about 12.4 miles (20km) of the line in the Stirling and Falkirk areas.
'Logical and justified'
The Scottish government asked Scottish Power to draw up plans to limit the visual impact of the power line when it gave permission for the project in January.
The company said it would use landscaping to screen parts of the route and that pylons would also be painted in darker shades of grey to help blend with the countryside.
More than 20km of existing low voltage overhead lines will also be removed or moved underground.
Frank Mitchell, Scottish Power's network director, said that in approving the power line in January, ministers had accepted it was both "logical and justified".
"This approved route was established through extensive planning and in-depth studies in order to find the most suitable location for the transmission line from a technical and environmental perspective."
Ofgem 'failure'
He said the measures in the company's report had been identified following a balancing of environmental, technical and cost considerations.
"The publication of the report provides an opportunity for Scottish Power to share its proposals for the visual and landscape mitigation as well as listen to the local communities and stakeholders," he added.
But a spokeswoman for land conservation charity, the John Muir Trust, said Scottish Power's decision highlighted the failure of regulator Ofgem to safeguard Scotland's landscapes.
Helen McDade, head of policy at the charity, said: "It is becoming clear that subsea cables are the preferred option for taking electricity from Scotland to England and that undergrounding is being considered, by Ofgem, as justified in National Parks in England and for London, for the Olympics.
"What is it that makes Scotland's landscapes less worthy of protection?"
Ms McDade added that the trust believed a reassessment in the light of current costs and technological advances would show Scotland's power needs could be met without the Beauly to Denny line.