Local TV plans will require more funds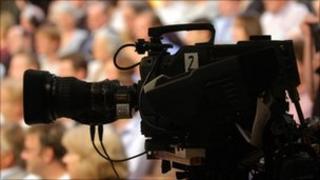 UK government-backed plans to set up local TV stations without subsidy will be "technically and financially challenging", according to a report.
The study said advertising revenue might be insufficient and some areas might require more transmitters.
Culture Secretary Jeremy Hunt is expected to outline plans to overcome some of the obstacles to local TV.
It is understood he will remove rules preventing the same company running newspapers, TV and radio stations.
Scotland has already seen failed attempts to establish local TV services, such as Lanarkshire Television a decade ago.
The outgoing Labour government had wanted to use public money to maintain regional news on STV and ITV1, but this scheme has since been scrapped.
Nicholas Shott, of investment bankers Lazard, who was charged by the culture secretary to investigate the new proposals, said a multi-million pound corporate sponsorship deal could be one way to make it work.
In a letter to Mr Hunt, he said the stations were more likely to succeed in "urban areas", but even there "the economics of a TV business funded mainly by advertising will still be challenging" and "additional revenue sources" would have to be explored.
Mr Hunt is expected to welcome the report during a speech to the Royal Television Society at the Barbican Centre in London.
He is expected to say: "My vision is of a landscape of local TV services broadcasting for as little as one hour a day.
"Free to affiliate to one another - formally or informally - in a way that brings down costs.
"Free to offer nationwide deals to national advertisers."
He will add that they should be able to piggyback existing national networks and able to exploit the potential of new platform technologies.