Are banks the key to recovery?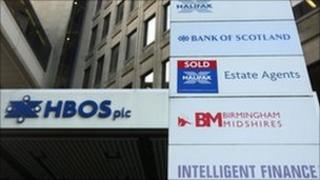 The financial sector has been taking a bashing of late, most recently from Business Secretary Vince Cable, who had a go at big bonuses and spivs at the Liberal Democrat conference.
So, following the recession, are banks helping enough businesses develop during tough times?
Photographer Helen Wallace Thomson applied for a £5,000 business loan to fund her new studio in Edinburgh.
She has an established business but her request was declined, despite having collateral to back up her loan.
"It angers me that there are people out there who have perfectly workable, potentially profitable, businesses that cannot get off the ground because no-one is willing to find funding," said Ms Thomson.
Her experience is not unique. Raymond O'Hare, chairman of the institute of directors in Scotland, said many applications were being rejected.
And he said the interest rates and fees being charged by banks are exorbitant.
Mr O'Hare said: "If we don't do something about that we are stifling the opportunity for businesses to grow and we are relying totally on our businesses taking off and growing and we have got to ensure that we facilitate that in any way we can and the banking sector has a responsibility to step up in that area."
Richard Freeman, managing director of formal wear hire company ACS Clothing, now employees about 140 people and wants to grow further.
He said: "While we've still been able to receive support from our bank, there's definitely a shift from within the bank where the balance of power has moved from the sales side and the customer relationship side towards the central credit side.
"At the same time, the banks have become risk averse, the bankers themselves, the people are becoming also a bit more risk averse."
Banks now stand accused of being overly cautious, and of failing to lend to viable businesses, but banks themselves dispute this and say the money is available.
Dr Iain Hardie, of Edinburgh University, said: "Banks are finding it difficult still to borrow from the financial markets and that, in the run up to the crisis and really since the turn of the millennium was a key part of their lending and that's likely to remain constrained."
Scottish Entrepreneur Alison Grieve said it was critical to support innovation, and argued some of that backing should come from banks.
She added: "We are well placed to be a nation who could use innovation to get round these difficult times."
Alison chose to by-pass the banks and instead gave shares in her business to a product design company to raise funding.
But many Scottish business are not so lucky, and the question facing banks is whether there are fundamental problems with the current lending system.