Team Scotland boss Jon Doig critical over Delhi Games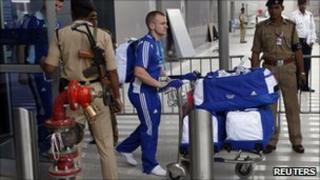 The Scottish and Welsh Commonwealth Games teams have moved into their Delhi accommodation as complaints continue over unfinished facilities.
Jon Doig, head of Team Scotland, was critical of the organisers and said it was "just not good enough for people who have had seven years to prepare".
He believed athletes had been let down and facilities still needed fixing.
English athletes will move in on Monday, but organisers said work would not be fully finished until Wednesday.
About 80 members of the Scottish team and 50 of the Welsh contingent are now at the competitors' residence after having flown out on Saturday.
The Indian government warned on Sunday that the village would not be finished until Wednesday, which is four days before the opening ceremony on 3 October.
India's chief minister of Delhi, Sheila Dixit, visited the site on Sunday to check progress and after talking to officials she said she expected work to take another 72 hours before all the problems are resolved.
Mr Doig, who is chef de mission of the Scotland Team, said: "We have been working really hard on our accommodation and the big challenge is to ensure that the rest of the accommodation is the same level for the other 71 Commonwealth Games associations.
"We just happened to arrive early, identify the problems and started working very hard to try to address them.
"Now we've got people in it's really starting to test the system and there are a few things that need to be fixed on an ongoing basis."
He said there has been "quite a lot of change" since Team Scotland managers arrived in the middle of September, but still a lot to do.
'Not good enough'
Mr Doig explained: "We've had a number of our colleagues move in over the last couple of days and have found that their apartments are a long way from being ready for our athletes.
"A lot of them have arrived in Delhi and have had to be held in hotels until they can be brought up to standard.
"It's just not good enough for people who have had seven years to prepare for the Games."
Scotland's athletes flew out as it emerged that tennis player Elena Baltacha would not be going.
The 27-year-old issued a statement explaining that due to a chronic liver condition - primary sclerosing cholangitis - the health risks of going to the Games were "too high".
Among those who travelled on Saturday were members of Scotland's archery, lawn bowls, shooting, tennis and weightlifting teams.
Team Scotland's rugby players, boxers and wrestlers are due to head out on Tuesday.
At least eight nations previously expressed reservations over the preparations for the Games, describing the accommodation as "unfit for human habitation".
Individual athletes, including reigning Commonwealth triple jump champion Phillips Idowu, decided not to attend over safety fears.
These were heightened when a footbridge to the main stadium collapsed and the roof of the weightlifting venue fell in.