Number of knife carriers falls to nine-year low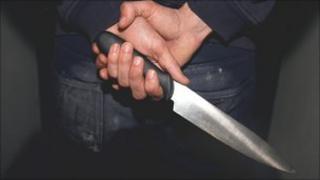 The number of people convicted of carrying a knife has fallen to its lowest for nearly a decade.
Figures from the Scottish government showed 3,194 crimes of having a knife in public were committed in 2009-10, a drop of 22% on the previous year.
The fall was welcomed by Justice Secretary Kenny MacAskill, who said it showed "tough enforcement" was paying off.
Opposition parties accused Mr MacAskill of being complacent on the issue.
Over the past three years, there has been a 30% fall in possession of all offensive weapons, including baseball bats and bricks.
The latest knife carrying figures represent a drop of more than 4,000 on the previous year, which was a nine-year high.
It also represented the lowest figure since 2000-01, when there were 2,855 convictions.
In the Strathclyde area, the number of people convicted of having an article with a blade or point dropped by 16%.
Police in Fife and Central Scotland also reported drops of 18% and 30% respectively.
In Dumfries and Galloway the figure fell by 25% in the year, while in Grampian the figure dropped by 38%.
Mr MacAskill said: "These are welcome trends which demonstrate that our efforts to tackle knife crime through a combination of tough enforcement backed by education are beginning to pay off across the country.
"However, we cannot and will not be complacent."
'Tide of violence'
He said that jail terms for knife-carrying in Scotland had increased by almost two-thirds over the past two years.
Mr MacAskill added: "Police officers are carrying out a record number of stop and searches, courts have been given powers to impose four-year sentences just for carrying a knife while our proposed sentencing council can take a considered look at sentencing for knife offences - taking into account the views of the public, victims, and police."
Labour said it was important to remember that 60 people had died in knife attacks last year.
The party's justice spokesman Richard Baker added: "Almost 2,000 are hospitalised by attacks with blades, doing nothing cannot be the right option.
"Kenny MacAskill's attitude stinks of complacency.
"Labour doubled the sentence for knife crime but more needs to be done to stem the tide of violence.
"The SNP's soft-touch approach is not stopping the stabbings."