School closure plan unveiled in South Lanarkshire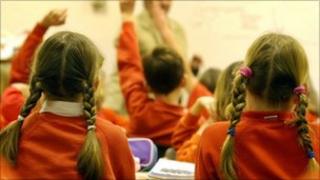 Plans to close or merge nearly 30 primary schools have been unveiled by South Lanarkshire Council.
The local authority said the future of 27 schools across the area were under consideration.
If agreed, the council said the move could generate up to £40m and save at least £4m a year.
The authority's executive committee has also agreed to review plans for nine new schools, which are currently at the design stage.
The news comes as South Lanarkshire considers plans to make £90m of savings to its budget over the next three years.
Council leader, Eddie McAvoy, said: "We have had to make difficult decisions when considering how best to take forward our commitment to ensuring that every pupil in South Lanarkshire will be taught in modernised accommodation fit for the 21st century.
"Parents, teachers and head teachers are aware of the huge financial challenges facing the council and we firmly believe that these proposals will mean that we stick to our commitment to ensure that all pupils are taught in modern bright and inspiring buildings.
"Parents, staff and pupils, as well as the wider community, will have ample opportunity to comment fully on each of these proposals through the statutory consultation process and I would urge all concerned to make their views known through the in-depth consultation process ahead."
A six-month consultation has already begun on the future of 12 primary schools in the district.
The are; Newfield, Stonehouse, Crawfordjohn, Abington, Crawford, Leadhills, Coulter, Tinto, Lamington, Libberton, Auldhouse, East Kilbride and Greenhills, East Kilbride.
The council said they would also consult on a catchment review in the Cambuslang and Rutherglen areas.
Further consultations are due to take place from March 2011 on St Mark's and St Peter's in Hamilton, Bent, Blackwood, Carstairs, Carstairs Junction, Hunter, Long Calderwood, Sandford, Wester Overton, Murray, Heathery Knowe, South Park, St Louise and Our Lady of Lourdes.
The authority said it also wanted to build a new school for pupils of Canberra Primary, East Milton, and about half of those from South Park on the existing Canberra Primary School site.
Meanwhile, Moray Council has stepped back from its plan to consult on seven schools, many of which were consulted on in 2007-08.
It has said the schools would remain as they are until after the next council elections.
New legislation
A Scottish government spokesman said: "Decisions on school closures and mergers should be taken by those who are closest to the detail and understand what the needs of their area are.
"We have introduced new legislation to ensure that any council that wishes to close a school carries out a robust, open and fair consultation with the local community and with educational benefits at the heart of the process.
"The legislation also introduces a presumption against the closure of rural schools.
"Where these new rules are not properly followed, ministers have the power to call in a council's decision and make a final decision for themselves."