Former VisitScotland boss given £240,000 payoff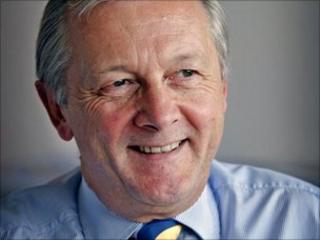 The former chief executive of tourism body VisitScotland has been given a £240,000 payoff.
Philip Riddle left his £161,000-a-year-post earlier this year.
He has been replaced by the organisation's marketing director Malcolm Roughead on a salary of £140,000 per annum.
VisitScotland is making savings of more than £1m over the next four years, including cutting the number of directors from six to four.
The publicly-funded body confirmed it had reached a "mutual agreement" with 58-year-old Mr Riddle resulting in him receiving a gross settlement of £127,000 with an additional payment to his pension of £113,000.
In a statement, VisitScotland said: "This is in line with agreed government guidelines and conditions of chief executive's employment contract.
"This will be entirely funded from salary savings in this financial year and VisitScotland is keen to reassure the tourism industry that this package will not be funded from current marketing activity spend."
Scottish Labour's George Foulkes said the settlement raised "very serious questions" for Scottish ministers about the organisation's accountability.
The MSP added: "Most people will regard a settlement of this size as astonishing in the current economic climate."
The Lib Dem's Iain Smith echoed Mr Foulkes' comments saying it was "extraordinary" that such an amount of money could be spent on the deal.
Tourist centres
Tourism Minister Jim Mather said the new chief executive appointment represented a substantial saving for taxpayers.
He added: "By streamlining its new senior management structure, VisitScotland will save some £1.3m over the course of the next four-year spending review.
"Mr Roughead brings a wealth of expertise to his new role and is ideally placed to lead VisitScotland in our shared drive for greater performance and efficiency."
The new chief executive Mr Roughead is now managing the 700 people who work for VisitScotland in tourism information centres across the country.
He said: "VisitScotland has transformed itself over the last decade and I am looking forward to leading the organisation as it continues to change and develop.
"In the current climate it's crucial we work together to grow tourism. VisitScotland generated more than £400m for the Scottish economy last year - representing a return of more than £20 for every £1 invested.
"I want to work closely with the tourism industry to achieve even greater growth in the years to come as I believe that tourism is vital to economic growth and creating new jobs."
VisitScotland chairman Mike Cantlay said 51-year-old Mr Roughead, who joined the body in 2001 from Diageo, was regarded as one of the "top tourism marketeers in the world".