Watchdog in call to end routine school inspections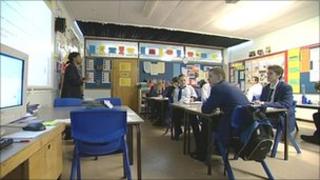 Scotland's education watchdog is proposing an end to routine classroom inspections and instead suggests a concentration on problem schools.
Her Majesty's Inspectorate of Education (HMIe) also wants to cut the notice given of impending inspections from three weeks to one.
It said the change would ensure any subsequent report would be a true reflection of the inspected school.
HMIe has launched a three-month public consultation on the proposed changes.
At present, schools are automatically inspected every three to seven years.
The watchdog, which oversees inspections in pre-school, primary, secondary and special schools in Scotland, said more inspections should be carried out in response to intelligence received from parents, teachers and education authorities.
'Good practice'
They believe the change would also cut down the amount of time spent by teachers preparing for a visit by inspectors.
Teachers' leaders have welcomed the proposals, which they say will ease pressure on staff.
Bill Maxwell, senior chief inspector at HMIe, said: "We believe that implementing this package of changes has the potential to produce a more proportionate, more focused, sustainable and effective programme of school inspections.
"They should enable us to focus more clearly on schools that need support while still being able to monitor the health of the system and see and share good practice."
If agreed, HMIe hope the changes would be introduced in 2011
The public consultation is due to run until 17 December.