Armed forces minister reassures over carriers order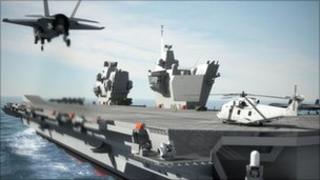 The armed forces minister has said there is no need for "panic mode" regarding the future of an order for two aircraft carriers.
The comment by Nick Harvey follows concern about the £5bn project in light of impending defence cuts.
There are fears that any downgrading of the order, partly being constructed at Rosyth and on the Clyde, would cost up to 10,000 local jobs.
Mr Harvey said work at the shipyards was guaranteed for "years to come".
'Legally valid'
Speaking on the BBC's Good Morning Scotland programme, the Liberal Democrat minister said: "Well the first carrier of course is pretty much 25% built now.
"I cannot imagine any circumstances in which we wouldn't finish the build.
"As for the second carrier, I would simply point the Scottish political community to the fact that there is an existing contract between the Ministry of Defence and the shipyards that guarantees them a certain level of work so whether that will be on the second carrier or anything else, the work is guaranteed for several years to come."
He added: "If I were in their shoes, it's exactly what I would be doing as well but I don't think they need to be in panic mode because there are legally valid agreements there."
Mr Harvey also said he thinks the decision on renewing Trident will be made after the next General Election in 2015.
It was initially scheduled to take place in 2014.
Meanwhile, a cross-party group of Scottish MSPs is due to hold talks with the UK Defence Secretary Liam Fox next month in a bid to protect defence spending in Scotland.
The MoD is under pressure to cut its £36.9bn annual budget by up to 20%.
Liam Fox is expected to announce the outcome of the government's strategic defence review at end of October.
Concerns about the carriers were raised after the chief executive of BAE Systems, Sir Ian King, told the Commons Defence Select Committee the company had been asked to consider a number of options ranging from "one carrier to no carriers".