Rowntree report says Scots jobless highest since 1996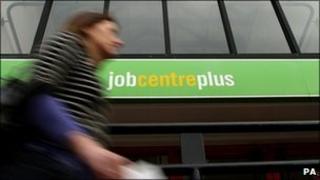 Scotland's unemployment rate has reached its highest level since 1996, according to findings by the Joseph Rowntree Foundation.
Its report said unemployment and child poverty had risen faster in Scotland than England.
The statistic comes on the day the Work and Pensions Secretary, Iain Duncan Smith, visits Edinburgh as part of his consultation on welfare reforms.
The report also said that the recession had affected men more than women.
At the beginning of the recession Scotland was doing better than England when it came to numbers joining the dole queues.
But with economic recovery slow, the country has fallen behind.
The Monitoring Poverty and Social Exclusion in 2010 report by the foundation also found that child poverty rose by 2% in the last year in Scotland.
Deputy First Minister Nicola Sturgeon said the government was "determined" to do all it could to help the poorest families.
She said: "In Scotland we have innovative home-grown policies such as school clothing grants, freezing council tax, free heating help, abolishing prescription charges and expanding concessionary travel schemes, which are all helping make life better for families and elderly people.
"However, full control of the tax and benefits system will enable us to tackle inequalities most effectively.
"In the meantime, we are already and are continuing to press the UK government on their plans to change the welfare system so that the poorest families get the help they need."
'Depressing trend'
Official figures last week showed that unemployment has reached 239,000 in Scotland - compared with 105,000 in early 2008.
Tory finance spokesman Derek Brownlee said the report's findings underlined the need to focus on job creation in the private sector.
He added: "For some years now we have seen the rate of new business start-ups fall, and even in the good years growth was lower in Scotland than in the rest of the UK.
"If this continues, this depressing trend will continue. Neglecting the private sector means fewer jobs and more poverty for children and adults alike."