Summer lifeboat crews called out five times a day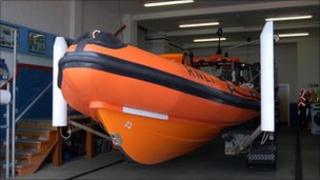 Scotland's lifeboats turned out nearly five times each day during the summer, the Royal National Lifeboat Institution (RNLI) has revealed.
The charity said there were 430 lifeboat launches over June, July and August.
The busiest of Scotland's 45 lifeboat stations was Queensferry, in South Queensferry, with 36 launches, compared with 22 last year.
Nearly 3,500 volunteers were needed to crew the launches.
After Queensferry lifeboat station, the next busiest in Scotland was Kinghorn in Fife, where 30 launches took place, compared with 23 in 2009.
The RNLI said "substantial increases" were also recorded by stations in Arbroath, up from 10 to 22 launches; Troon, up from 14 to 19; Campbeltown, up from seven to 13; Peterhead, up from five to 10; and Lochinver, up from three to 10.
'Always busy'
Wave Crookes, the RNLI's divisional inspector for Scotland, said: "Those 430 launches represent a substantial number of volunteers required to operate the RNLI lifeboat service in Scotland.
"They were on call at a time when most people were thinking of their summer holidays and catching some sunshine, whereas our volunteers make themselves available at all times when their bleeper goes off.
"As well as being on call, our volunteers keep up-to-date with a rigorous training schedule, which goes on all-year round."
The charity's lifeboats were requested to launch by the coastguard 3,926 times throughout the UK and Ireland during June, July and August.
Michael Vlasto, RNLI operations director, said: "The summer is always busy as more and more people opt to relax at the coast each summer in the UK and Ireland.
"The figures show that our volunteers are called on much more during this time and the fact they respond every time the pager goes off shows just how committed they are to saving lives at sea.
"Many of our lifeboat volunteers are also especially busy at this time with their day jobs as many of them work in the tourism industry, so we are especially grateful to them in summer - and to their employers, who allow them to stop work at the 'bleep of a pager' to help others, and given the current economic climate for businesses this is a great contribution to the charity."