Glasgow University principal says consider graduate tax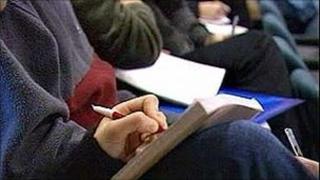 A graduate tax could be one way of helping to fund Scotland's higher education sector, the principal of the University of Glasgow has said.
Professor Anton Muscatelli believes the current fiscal crisis has emphasised the need for a fresh revenue.
He said up-front tuition fees were incompatible with Scotland's philosophy of higher education.
But Prof Muscatelli has instead argued that those who earn more after graduating should contribute more.
The National Union of Students said the state should pay for higher education - but that high-earning graduates should pay more.
Scots students pay no fees for tuition.
Principal Muscatelli, who has told his staff that public sector cuts could see the university lose about 8-10% in funding, said a contribution from graduates may be needed to help combat the cash "crisis".
He told BBC Radio Scotland: "We have done extremely well in terms of our global competitiveness, we've maintained access, but with the current public funding crisis we've got to look at the possibility that there might have to be a graduate contribution in the future.
"We have to rule out tuition fees, upfront tuition fees, because that's against the spirit of Scottish education but we may need graduates, once they actually leave universities, on the basis of their ability to pay, to give something back towards the cost of their education."
Any model would need to be linked "very clearly" to ability to pay, he added.
The academic, who is on the executive of the umbrella body Universities UK, suggested that allowing the public purse to continue to pay the full costs of higher education was not sustainable unless the sector became a higher priority for funds.
Scottish universities are concerned that cash problems may lead to them falling behind their counterparts around the world, notably in England where tuition fees are expected to rise.
His comments came on the day the Scottish Conservatives put forward proposals to follow an Australian model where students pay back deferred fees and living costs.
The party said the variable fees would only be paid back when students earn over a certain limit. Some courses would be more expensive than others.
The Scottish Tories have organised an education conference in Edinburgh where the issue will be discussed.
Liam Burns, president of the National Union of Students Scotland, will speak at the event.
He said: "If graduates hit a meaningful income, like £30,000, it's hard to argue they haven't benefited from their degree.
"They could then contribute to ensure graduates can come along behind and follow them."
But there must also be a closer look at student support and business contributions, he said.
'Case for change'
Mr Burns added: "We've always said that we firmly believe the state should pay for student education.
"Also businesses are part of it. There is no structured way for businesses to contribute and they are arguably the largest beneficiary of graduates."
He would "not advocate" a lower threshold for a graduate tax, such as £15,000, which he said would be regressive.
"Nurses and teachers contribute to society but won't necessarily see as much personal financial gain," he said.
Speaking before the conference, Scottish Tory education spokeswoman Liz Smith said funding for Scottish universities was "no longer tenable".
"If we are to preserve and enhance the international reputation of which we are naturally very proud, the case for change is overwhelming," she said.
"So too, we believe, is the case for some form of student contribution."