Arrest over Pope helicopter laser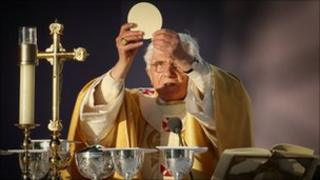 An 18-year-old man has been charged after a police helicopter was hit by a laser beam during the Pope's visit to Glasgow on Thursday, it has emerged.
The helicopter was targeted as it surveyed the large crowds leaving Bellahouston Park after the Mass.
Police used tracking equipment in the helicopter to pinpoint where the beam was coming from and officers raided an address on the city's southside.
Officers said the day had been a "real success" but this was a "sickener".
Insp David Dick, of Strathclyde Police's air support unit, said the attack came after the Pope had been escorted to Glasgow Airport and the helicopter had returned to the park.
Mr Dick said crew members were anticipating more attacks, which can cause pilots to be flash-blinded for a short while, in the future.
He said the incidents, which require darkness to have an impact, seemed to be getting worse.
And he warned people that arrests had been made in 60% of recent incidents.
Last week, a fruit-picker who shone a laser pen at a Tornado jet as it was trying to land at RAF Leuchers in Fife was jailed for four months.
Migrant worker Radu Moldovan, 28, from Romania, kept the beam focused on the jet cockpit for up to 10 seconds, distracting the pilot and navigator.
Cupar Sheriff Court heard only the skill of the pilot prevented a crash.
Moldovan had bought the laser pen on eBay for £4 and was playing with it at a barbecue.