Confidence in Scottish construction sector slips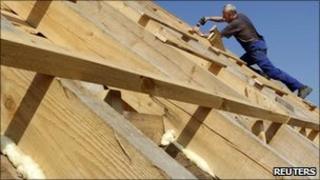 Scottish construction bosses have warned of "a dam of insolvencies fit to burst" in the sector.
The Scottish Building Federation (SBF) raised their fears after a survey showed industry confidence was now worse than it was at the start of 2009.
The Scottish Construction Monitor found that confidence had slipped considerably since the start of this year.
More than 80 construction firms took part in the quarterly survey.
The survey found only one-third of construction firms seeking bank finance for their business over the past year had been able to secure it on satisfactory terms, with almost a quarter seeing their request for finance turned down.
Three-quarters of employers who responded described their finances as "secure" but said the outlook for their business remained difficult.
However, 14% said that without additional bank finance, their business would be forced to restructure or to lay-off workers, or they could even struggle to survive.
'Tough outlook'
Commenting on the findings, SBF chief executive Michael Levack said the results reinforced anecdotal evidence on the ground.
He continued: "Despite efforts to talk up recovery, the outlook for many Scottish construction firms remains extremely tough.
"It is also absolutely clear that restrictive lending practices and unaffordable credit continue to blight the industry and are one of the reasons why confidence remains so shaky and the prospects for recovery so uncertain."
He added: "We have already seen the number of Scottish construction firms going bankrupt increase significantly at the beginning of this year.
"My fear is that there is a dam of further insolvencies in the building industry that is fit to burst."
Earlier this month, the Office for National Statistics recorded a sharp rise in Scottish construction output in the second quarter of this year.
However, the SBF responded cautiously at the time, warning that underlying trends were "of serious concern".