Glasgow tourist chiefs hit out over guide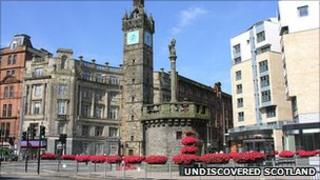 Glasgow tourist chiefs have hit out at a new guide which claims the city remains blighted by violence, deprivation and unhealthy lifestyles.
The Thomas Cook guide praises the city for its "vibrant" arts scene, high culture, green spaces and shopping.
But it also warns visitors to expect poor weather, sectarianism and alcohol and drug abuse in its deprived suburbs.
Glasgow City Marketing Bureau described the Pocket Guide to Glasgow as "unbalanced" and "smug".
In an account of Glasgow's history, the guide describes how the city sank into decline after World War II as heavy industries collapsed.
It reads: "Well-meant efforts to re-house the city's workers in the 1950s and 1960s often backfired, with new housing estates such as Easterhouse displaying many of the same intractable social problems as the city's slums.
"Drug and alcohol abuse and violent crime remain an issue in Glasgow's deprived suburbs even today."
'Best avoided'
The guide says that while Glasgow is generally a safe city, visitors should steer clear of football fans.
It comments: "Rivalries between football teams are common in all sporting nations, but the contest between Rangers and Celtic is fiercely heartfelt.
"In part this is due to religious sectarianism that remains strong throughout Glasgow - Celtic are a Catholic team; Rangers are Protestant."
The guide concludes: "Large crowds of Rangers and Celtic supporters are probably best avoided on match days."
Glasgow also finds itself under fire for its lifestyle.
"The traditional Glasgow lifestyle, with its high consumption of alcohol, tobacco, fried food, sugar and salt, is notoriously the least healthy in Europe."
The pocket guide suggests visitors soak up the atmosphere at the Barras market but goes on to describe the goods on sale as "rubbish".
'Rainy reputation'
Glasgow's weather is also drawn to readers' attentions.
It comments: "The city's rainy reputation is well founded and the likelihood is that you'll experience more than a few showers, if not a full-on downpour. Going out without an umbrella or a hat is foolhardy, to say the least."
Scott Taylor, chief executive of Glasgow City Marketing Bureau, reacted angrily to the guide, describing it as "unbalanced" and "smug".
He said: "I think Glasgow has come a long way. It is now one of the world's leading tourist cities. It has an enormous amount of wealth and opportunity for tourists to come and see, so to describe places in Glasgow as 'rubbish' is just awful.
"I think it is a parody of all the information that has been negatively written about Glasgow over the past 20 years. It talks about the Barras selling rubbish when in fact the Barras doesn't sell rubbish - it sells a lot of interesting things.
"It talks about Easterhouse as a slum and Easterhouse clearly isn't a slum. I feel very angry that people in Easterhouse once again are being condemned by a tourist guide."
Mr Taylor added: "Glasgow has some difficulties but you wouldn't expect to read about them in a tourist guide. For instance, you don't read about 1950s housing around Krakow or the difficulties that Vancouver has in regards to crack and heroin."
A spokesperson for Thomas Cook said: "We pride ourselves on our history of producing independent travel guides which appeal to both first time and frequent visitors, our intention is not to be controversial or cause offence.
"Our city guides reflect how areas have changed, what gives them their personality and makes them different, as well as providing a wealth of useful visitor information."