Search for jobs in Scotland 'getting tougher'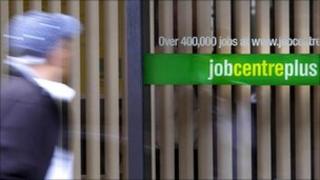 The search for jobs in Scotland is getting tougher, according to the latest market analysis.
A survey of job market activity by the Bank of Scotland found conditions in the labour market have been worsening in the past three months.
The fall in demand for permanent staff is the first recorded by the bank for nine months.
The survey also found recruitment agencies reporting a slight growth in demand for part-time workers.
The so-called labour market barometer found the strongest showing last month was in hotels, catering and computing.
It registered a strong rise over the summer in the number of people seeking jobs.
Growth in the number of people available for full-time work has grown in each of the past 29 months, while August saw the strongest rise in demand in the past year.
Poor job supply combined with high demand from job-seekers helped explain why pay for new full-time recruits was dropping at the fastest rate since last November, and for the third consecutive month.
As with last week's official statistics on those in and out of work, this latest survey shows Scotland's job market continuing to under-perform when compared to the rest of Britain.
Donald MacRae, chief economist at Bank of Scotland, said: "Labour market conditions in Scotland remained challenging and worse than the UK as the market deteriorated in August.
"However the rate of decline was only modest."