Volunteers in beach clean-up bid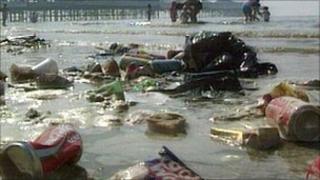 Hundreds of volunteers are helping to clean up and record the amount of rubbish on Scotland's beaches this weekend.
The data gathered from the Marine Conservation Society's (MCS) annual beach litter survey is then used as a snapshot of the state of marine and beach litter around the UK.
MCS wants to halve the amount of litter on Britain's beaches by 2015.
More than 300 UK beaches are expected to be surveyed as part of the clean-up.
Results from the MCS Beachwatch survey in 2009 showed beach litter had increased by 75% since the project began in 1994.
The MCS's Scottish projects officer, Anne Saunders, said: "We need the public's help to clean and survey our beaches to help tackle the relentless tide of litter threatening our beaches and wildlife.
"The information our volunteers collect will help us tackle the main sources of litter and campaign to reduce the most common and harmful items ending up on our beaches and killing wildlife."
More than 170 species of marine wildlife including seabirds, turtles and whales have been recorded mistaking marine litter for food, which can result in starvation, poisoning and fatal stomach blockages.
Scottish Environment Secretary, Richard Lochhead, said: "I am very aware of the amounts of litter that plague our beaches.
"The Marine (Scotland) Act passed earlier this year includes measures to preserve the marine and coastal environment and campaigns such as BeachWatch help to achieve these aims.
"The Scottish Government has provided £10,000 to the Marine Conservation Society towards the Cool Seas Campaign and is committed to developing a marine litter strategy."
"One of the most practical things anyone can do is to join the hundreds of volunteers who will be cleaning up Scotland's beaches this weekend."