Scots' life spans among shortest in EU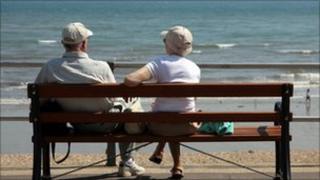 Scots have among the shortest life spans in Europe, despite new figures showing life expectancy improving.
When compared with the European Union's 27 member states, Scots men can expect to live a year less on average, while woman will die 2.3 years earlier.
According to Scotland's registrar general, Scottish men have increased their life expectancy by 2.7 years to 75.4 years in the past decade.
Women in Scotland have seen their life span increase from 78.2 to 80.1 years.
The gap between male and female life expectancy in Scotland has also continued to close, dropping from 5.5 years in 1997-99 to 4.8 years in 2007-09.
However, Scotland's position relative to the UK and EU average figures has worsened over the past five years and is now just ahead of eastern European nations like Slovenia and Poland.
Compared with Swedish men, who have among the longest lives, Scottish men will die four years earlier on average.
Scottish women can expect to live nearly five years less than their French neighbours.
The statistics also showed that the gap remained between the richest and poorest parts of Scotland.
Men living in East Dunbartonshire live on average an additional 7.2 years compared with those in Glasgow, which has the country's lowest life expectancy.
'Traditional gap'
The biggest rise in life expectancy for men was in West Lothian (3.9 years) and for women was in East Dunbartonshire (3.6 years).
The smallest rise was in East Renfrewshire and North Ayrshire (both 1.5 years) for men, and Fife (1.2 years) for women.
Commenting on the figures, registrar general Duncan Macniven said: "Scottish men and women are living longer and men are closing the traditional gap between their life expectancy and women's.
"While life expectancy in Scotland continues to be lower than the UK and European average, there are no council or NHS Board areas where life expectancy has decreased over the last decade."
Minister for Public Health, Shona Robison said the increase in life expectancy was encouraging.
She added: "However, we are all aware that we still live in a Scotland where the poorest in society suffer from unacceptable inequalities in health.
"This problem cannot be solved overnight and it will take generations to see a change."