Teacher numbers in Scotland at eight-year low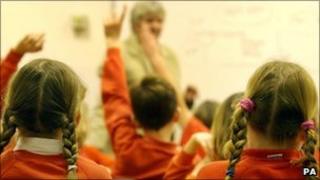 Teacher numbers in Scotland have fallen to their lowest level in eight years, according to official figures.
There were 54,600 teachers in classrooms in the second quarter of this year but numbers have fallen by more than 2,000 in the past year.
Opposition politicians said the statistics showed the SNP's education policy had failed.
But ministers said the profession had been hit by public spending cuts and have reduced teacher training places.
The latest public sector employment figures showed 54,600 full-time equivalent teachers between April and June this year - down 2,200 on the same period last year, when the figures stood at 56,800.
The figure stood at 57,500 when the SNP came to power in 2007.
Labour education spokesman Des McNulty said: "There seems to be no end to SNP policy failure in education.
"Many of the hundreds of newly-qualified teachers unable to get jobs are considering leaving the profession."
Liberal Democrat education spokeswoman Margaret Smith said: "The SNP promised when they took power they would maintain the record number of teachers they inherited, but the SNP have utterly failed to keep this promise.
"This latest broken manifesto promise by the SNP, only days after the humiliating climb down on class sizes, is not only hugely embarrassing but also tells the story of the human cost of SNP failings in government."
Education Secretary Mike Russell has said it was not possible for local authorities to employ the same number of teachers as they had done previously, pointing to the recession, which has led to a squeeze on public spending.
He said: "This government is absolutely committed to doing what we can to ensure as many of our teachers as possible are employed by local authorities.
"That's why we've acted to reduce the number of trainee teachers coming into the system.
"As the Job Seekers Allowance figures show, Scotland has the lowest level of teacher claimants in the United Kingdom."
He added: "We are also driving forward further progress to reduce primary one to three class sizes, to a total of 20% in classes of 18 or fewer, which will benefit pupils and teachers alike."