Fergus Muirhead answers your money questions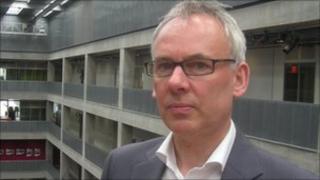 I'm Fergus Muirhead and I'm here to answer any questions you may have about any money or consumer issues.
I'll be dealing with a selection of your queries every other Wednesday on Scotland Live, on Reporting Scotland and here on the BBC Scotland news website.
Please drop me a line here at fergus@bbc.co.uk with your questions.
You can also read more on money and consumer issues on my blog at www.moneysucks.net.
Q. In September 2009 I ordered a leather suite from a furniture shop in Dumfries. I paid a monthly amount until the total of £1,599 was paid last November. The suite was then delivered in February, but after two or three months I noticed the rear of my recliner chair was ruffling up. After a while I saw that the other recliner chair was going the same way. I contacted the retailers who said they would have to get an upholsterer to check what was causing the faults. An upholsterer examined the suite and said all he could do was send in a report to the manager of the shop. We have since been informed by the shop that the seats would have to be re-upholstered but the material would have to be ordered and shipped back from Italy probably some time in October. Do I have to accept the repairs or am I entitled to have a replacement suite instead? I understand that I may have to pay extra.
A. It would seem to me from what you say that there is a manufacturing fault with the chairs, and that seems to have been recognised by the retailer who is suggesting the seats are removed to be re-upholstered. Now it may be that this is the only suite of its type and therefore the only way to deal with your problem is to have the same chairs repaired, but I think that if the retailer is accepting there is a fault and you are not happy with the idea of a repair then you should argue your case, with some justification, for a replacement chair or two. Having said that, it may be that you are content to allow the chairs to be repaired and, if that is the case, you should know that it won't affect your rights. So if the problem comes back after the chairs have been 'repaired' once, you will be entitled still to ask the retailer for a replacement. If you accept a repair it would also make sense to argue for some sort of replacement furniture while your seats were being repaired.
Q. I purchased a 12v two-seater battery-powered jeep for my nephew last May. However, the jeep arrived with several broken parts. It then took the company to the end of June to get the parts to me. The jeep was then not used until the end of August. It has been used twice, although on the second occasion my nephew was almost killed in it when the front steering column snapped in two when the jeep went over a tiny bump on the road. This toy is supposed to be kid safe. The company is now refusing to give me my money back as they say I can only return it after seven days of purchase, even though it took them a whole month to get the parts to me. Can they do this? Leanne Gardner
A. Very simple answer here. If the company told you that you needed to return goods within seven days in order to qualify for a refund then they were quite simply not telling you the truth! Any retailer may put up a sign that says you can only return unsuitable goods for a refund within a certain time period. Unsuitable and faulty are two completely different things, though, and you will also see that the sign will say this policy 'does not affect your statutory right'. One of these 'statutory rights', as described in the Sale of Goods Act, is that the goods you purchase should be 'fit for purpose'. From what you say, it sounds as if this was quite clearly not the case and I would go back to the retailer to tell them that as far as you are concerned, under Sale of Goods Act legislation, their product was defective and you would like a replacement or a refund.
Q. I bought a contract mobile phone on the Orange network from Phones4U. The problem I have is that I get a very poor signal at home and at work where, according to Orange, I should have a brilliant signal. Phones4U won't take the handset back or cancel the contract as they say they can't do anything about it. When I contacted Orange I waited for a return call but never got one. I currently have a different network's sim card in the handset and it is working fine, unlike Orange. Hazel Sturgeon
A. I have a feeling you might face an uphill struggle here, Hazel - not because I don't think you have a case! It sounds as though the problem you are having is one of reception rather than an issue with the phone handset you purchased and I am sure that this is what you will have been told when you asked for the contract to be cancelled. You say in your email that "according to Orange, I should have a brilliant signal" at home but that is not proving to be the case. If you have that in writing, or can prove that you were told that your home would have a very good signal on the Orange network, then I can see that you might have a case for breach of contract and that is the line you should pursue. You should go back to the shop, or write to Phones4U explaining that you were clearly told you would be able to get good reception where you live. Explain who told you that and when. You should then explain that you consider Phones4U to be in breach of its contract with you.
Q. I bought a brand new touring caravan for £15,500 in July 2009. It was delivered by the company we bought it from to a seasonal pitch in Musselburgh. I chose to purchase a touring van rather than a static one so that we could move it elsewhere if we chose to do so, but we do not tow it. It stays at the site from March to October and is stored there in the winter. In July 2010, the fridge developed a fault but the caravan company insists we need to return the caravan to them although the fridge simply needs a replacement part. This is not practical for us as we do not have the facility to tow it. We eventually had to contact the manufacturer and arrange for a mobile repairer but we had to pay the £50 call-out charge. Now the company we bought the caravan from refuse to refund this. Under the Sale of Goods Act, the seller is liable to carry out repairs at no additional cost and without significant inconvenience to the buyer. Should we take out a summons at the small claims court? Mary Johnstone
A. This is one of these questions that unfortunately doesn't really have an answer that everyone will be happy with! I agree with you that the Sale of Goods Act says that repairs should be carried out at no additional cost and without significant inconvenience to the buyer, and you would therefore expect the caravan to be repaired free of charge. Unfortunately the retailer in this case argued you purchased a touring caravan and therefore should have been able to tow it to the place that you bought it, or another dealer if more convenient, to have the fault examined. I understand that point of view as well. The £50 you paid to the repairer called out by the manufacturer was presumably applied because it was arranged as a straight "repair" rather than something done under warranty. The retailer now says it has no obligation to refund because it didn't have the chance to examine the van before you went ahead and paid for repairs. It is important in these situations to work out exactly who you are paying and why, and whether someone will reimburse you after the fact. In this case I'm sorry to say it doesn't look as though they will. Having said all of that, if the van was still within warranty then I would be asking why the manufacturer charged you to have the fridge repaired in the first place, unless there is a clause in the warranty agreement that includes some sort of "call-out charge". I would be having a look in detail at that warranty before deciding how to proceed.