Welfare cuts 'will damage Scots economy'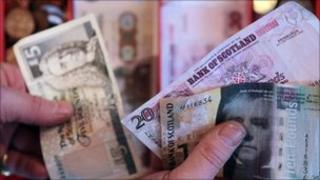 Changes to the welfare system could take £500m from the Scottish economy, resulting in more than 10,000 job losses, a report has suggested.
The cuts will reduce spending power among poorer groups, according to the Scottish Local Government Forum Against Poverty and Rights Advice Scotland.
The study said people on low incomes tended to spend their money locally and so small businesses would suffer.
There would also be greater demands on hard-pressed council services, it said.
The UK government has warned that current levels of spending on welfare cannot continue, and it has already announced £11bn in cuts to benefits.
Willie Hogg, chair of the Scottish Local Government Forum Against Poverty, said the cuts equated to reducing the spending power of every woman, man and child in Scotland by about £100.
He added: "But the reality is that the poorest, most vulnerable and those with disabilities will be burdened with shouldering the weight of these cuts because it is their benefits that are most affected."
He said councils would be attempting to cut budgets while facing greater demands on their services, particularly in the areas of social work, housing and welfare advice.
And councils' income from charges, housing benefit administration, council tax and business rates would also decline as fewer residents would be able to pay, he claimed.
Chancellor George Osborne has said welfare cuts were needed to "take the pressure" off other government departments, which faced cuts of between 25% and 40%.
Mr Osborne came under fire last week after he told the BBC that welfare spending was "completely out of control" and suggested people who were making a "lifestyle choice" to live on benefits rather than trying to find work could find their support cut.