Scots meeting agreed with Defence Secretary Liam Fox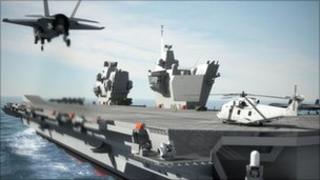 UK Defence Secretary Liam Fox will meet Scottish political leaders and union chiefs later this month over fears about spending cuts.
There are fears a project to build two new aircraft carriers, on the Clyde and at Rosyth in Fife, could be downgraded.
For the past two days talks have been taking place between Holyrood's main parties and trade unions.
They have been seeking to agree, by the end of the week, a joint submission to the MoD's strategic defence review.
The meeting, chaired by First Minister Alex Salmond, was attended by Scottish Labour leader Iain Gray, Scottish Lib Dem leader Tavish Scott, Tory chief Annabel Goldie and Green co-leader Patrick Harvie, as well as representatives from the shipbuilding and engineering unions, the GMB, Unite and STUC.
The Scottish Government was already scheduled to meet Mr Fox on the issue, along with the heads of the other devolved UK nations.
It has been confirmed this meeting will take place on 28 September.
And it has also emerged that Mr Scott, through talks with Lib Dem Scottish Secretary Michael Moore, has brokered a second meeting with Mr Fox.
This is likely to take place around the same time and will include the main Scottish political leaders and union representatives.
The Ministry of Defence is under pressure to cut its £36.9bn annual budget by up to 20%.
Dr Fox is expected to make an announcement at the end of October.
Concerns about the carriers were raised last week after BAE systems chief executive Sir Ian King told the Defence Select Committee in the House of Commons that the company had been asked to consider a number of options ranging from "one carrier to no carriers".
Scottish ministers said cancellation could cost up to 10,000 jobs.