MSP allowances and expenses hit record high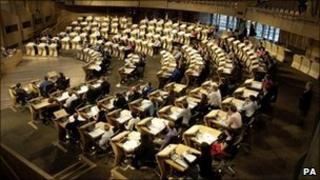 MSPs claimed a record amount of expenses last year, with payments totalling almost £11.7m, Scottish Parliament figures have revealed.
Expenses and allowances for 2009-10 reached £11,662,598, an increase of £706,394 from the previous year.
Holyrood bosses stressed changes to the allowances system partly accounted for the increase.
Alasdair Allan, MSP for the far-flung Western Isles seat, claimed the most at almost £46,000.
Lothians MSP George Foulkes claimed the least, at less than £3,000.
The total MSP allowances bill takes accout of an increase in salary costs for politician's staff, following the recommendations of an independent review.
However, the amount claimed by MSPs for other expenses, such as accommodation and travel, was down by £300,000.
A Scottish Parliament spokesman, said: "Staff salary costs aside, the wider picture shows costs remain steady."
Liberal Democrat Tavish Scott, who represents Shetland, one of the most remote constituencies, claimed the most of the four party leaders, receiving £35,983.
Labour leader and East Lothian MSP Iain Gray, who received £6,271 in relation to his party position, was paid a total of £23,661, while his Tory opposite number, Annabel Goldie - a West of Scotland MSP, received £9,924.
'Significant change'
SNP leader and first minister, Alex Salmond, was paid £19,943 for expenses in relation to his role as MSP for Gordon.
A spokesman for the first minister said "significant change" had been ushered in in Holyrood's expenses system under previous presiding officer George Reid, which saw all elements of MSPs expenses published online.
He stated: "Ministers have consistently said that we viewed the Holyrood expenses system as the gold standard to which Westminster should aspire.
"You have seen the effect of that in terms of decreased expenses since the Holyrood expenses has become totally transparent."
He added that the Holyrood system had been improved before the "excesses and abuses" of the Westminster system came to light.