Figures show rise in marriages in Scotland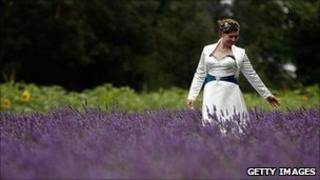 The number of marriages in Scotland rose in the spring after falling for more than a year, figures have shown.
The increase is noted in the Registrar General for Scotland's round-up of births, deaths, marriages and civil partnerships for the second quarter of 2010.
It showed marriages went up by 411, from 7,877 in the first three months of 2010 to 8,288 in the second quarter.
The number of heart disease and stroke deaths fell, but cancer deaths rose.
The General Register Office for Scotland figures cover the period from 1 April to 30 June 2010. The increase in marriages comes after five consecutive quarterly falls.
Out of 12,812 deaths, heart disease fell as a cause by 4.6%, stroke fell by 4.5%, while cancer deaths were up 2.3%.
There were 14,743 births registered in Scotland in the second quarter of the year, slightly fewer than in the same period of 2009.
However, the total number of births for the first six months of the year was marginally up.
Registrar General for Scotland, Duncan Macniven, said: "Today's figures show a rare increase in the number of marriages in Scotland, although marriage rates fluctuate through the year and quarterly data can't be taken as indicative of the year ahead."