Scots greenhouse gas emissions 'down 21% in decade'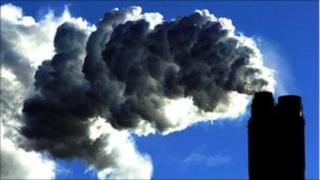 Greenhouse gas emissions have dropped by 21% since 1990, according to Scottish government statistics.
The figures for 2008 revealed the country's emissions fell by more than a fifth when taking emissions trading within the EU into account.
Despite the drop, emissions from transport - excluding international aviation and shipping - rose by 7%.
The government said Scotland was now half way towards its goal of reducing emissions by 42% by 2020.
The figures revealed that levels of six greenhouse gases, including carbon dioxide, methane and hydrofluorocarbons, fell by 3% during the period.
That was increased to 3.7% when adjusted to take into account emissions trading in the EU.
This allows countries which exceed their cap to buy back "emissions credit" from other countries which have kept within their limits.
While emissions from transport rose 7%, pollutants from international aviation and shipping increased by 20%.
Those statistics showed reduced levels of emissions in the business and industrial process category, with a 37% fall since 1990.
There was also a drop of 52% in the waste management category and a 22% fall in pollutants from agriculture during the period.
Carbon dioxide (CO2) accounted for about 79% of Scottish greenhouse gas emissions in 2008, a 3.5% fall compared to the previous year and a 15% fall since 1990.
Non CO2 emissions - including methane and nitrous oxide - dropped by 34% since 1990.
Climate Change Minister Stewart Stevenson said: "These figures demonstrate the excellent progress we are making towards achieving our world-leading climate change targets."
He said that nearly a quarter of Scotland's electricity demand was met by renewable energy during 2008 and investment in offshore wind projects means electricity generated from renewable sources will play a bigger role in helping to reduce emissions.
Mr Stevenson added: "Everyone from government, business, industry and individuals will need to play their part to ensure we deliver a low carbon Scotland and meet our ambitious climate targets."
Dr Sam Gardner, climate policy officer for WWF Scotland, said: "We've seen welcome action to boost the use of Scotland's green energy sources such as wind, wave and tidal.
"However, to truly lock in these latest emissions reductions, we need to see the Scottish government commit to stronger action on improving the energy efficiency of our homes, tackling transport - one sector where emissions have risen since 1990 - and saying no to any proposals for new coal-fired power stations in Scotland."