Scottish Police Federation calls for force cuts summit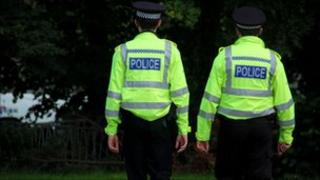 The union representing Scotland's police officers has called for a summit to discuss planned spending cuts to the country's eight forces.
The Scottish Police Federation (SPF) has warned the projected 9% drop in the policing budget is equivalent to losing 2,808 officers.
They want politicians from the main parties to attend a special meeting before the next budget is fixed.
The Scottish government is due to publish its budget in November.
According to the SPF, the proposed drop in funding could see police numbers cut to levels not seen since 1995.
Les Gray, the union's chairman, said: "We recognise the pressures that public finances are under and that is why we are calling on politicians from all of the political parties to get together with us to debate what can be done.
"We strongly believe that slashing police budgets and reducing police numbers would be a false economy.
"Crime levels would increase and this would have a knock-on effect on the National Health Service, the courts, social work and other agencies.
"Everyone would be affected as we expect home, car and personal insurance premiums would also soar as a result of any reduction in police numbers."
Civilian staff
The Scottish government has said it has overseen record investment in policing.
Justice Secretary Kenny MacAskill said there was currently a record 17,424, police officers in Scotland - 1,190 more than in March 2007.
The figures coincide with a fall of 10% in Scotland's recorded crime levels.
But Labour's justice spokesman Richard Baker said a reduction in officer numbers would undermine attempts to keep communities safe.
He said: "If we are to make progress in the fight against crime, the Justice Secretary Kenny MacAskill needs to listen to the warnings from organisations like the Police Federation, not continue to be complacent about his 'here today - gone tomorrow' police pledge."
Chief constables across Scotland have individually been warning of the financial problems ahead.
Strathclyde Police has already said it plans to cut 200 officer posts through early retirement as well as inviting all of its civilian staff to apply for voluntary redundancy.
Central Scotland Police aims to cut 194 police posts over the next four years to save money.