UK Border Agency cuts prompt port security fears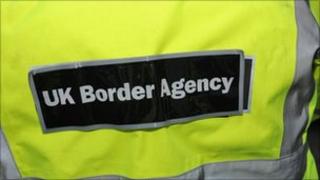 A Scottish police chief has condemned moves by the UK Border Agency to withdraw funding for three officers working at the port of Stranraer.
Dumfries and Galloway chief constable Pat Shearer said he had already been forced to release illegal immigrants because of a lack of support.
About two million people pass through the Galloway ports of Stranraer and Cairnryan each year.
The agency said its work would now be concentrated in Northern Ireland.
Ferries from Stranraer and Cairnryan go to Belfast and Larne in Northern Ireland, with two in every 100 passengers passing through the ports being police checked.
Mr Shearer said he was "at a loss" over the agency's decision to withdraw funding by the end of the year, saying bosses had acknowledged the Galloway ports were an exit point for criminals and immigrants.
"They acknowledged in our discussions with them earlier on this year that there was a need to increase that resource," he said.
"So I cannot understand why they are effectively walking away from the problem."
Mr Shearer told Newsnight Scotland of an example at the weekend where his force detected illegal immigrants, not at the port itself but on the motorway, but support was not forthcoming from the UK Border Agency.
He explained: "We were advised to arrest the individuals and then, subsequently, in conversation with the UK Border Agency, then to invite them to go for an appointment.
"They were released to attend an appointment."
When asked if they did make an appointment, Mr Shearer responded: "I don't know.
"I think if it was myself and I happened to be an illegal immigrant and was given that opportunity, I probably wouldn't be attending that appointment."
BBC Scotland has seen a copy of a letter from the UK Border Agency's Scotland and Northern Ireland director, Phil Taylor, to Scottish justice secretary, Kenny MacAskill.
In the correspondence, he states: "In line with the government's requirement to bear down on the cost of the public sector, we have had to reduce the size of the cadre of seconded police officers (who are a very expensive resource) across the UK.
"In Scotland, that means that the number of seconded officers in Aberdeen has been reduced from 3 to 1; in Edinburgh the number of seconded officers will reduce from 2 to none and at Stranraer/Cairnryan the number of seconded officers will similarly reduce to none by the end of this financial year.
In a statement to BBC Scotland the border agency said: "The identification of any illegal immigrants using the Galloway ports will move to Northern Ireland where UK Border Agency staff will replicate the work that they are already doing at the airports in the province.
"We have a more substantial resource there which is more conveniently located to service the ports."
Mr MacAskill also condemned the decision, saying it had been made without discussion.
"I regret the action they have taken because it affects the security of Scotland and the whole of the United Kingdom," he said.
"It does seem to me that Scotland is having to deal with matters that currently are reserved to Westminster.
"We are having to provide our police resources for matters that should be funded and provided by them."