Scottish fishermen boycott Faroe meeting over mackerel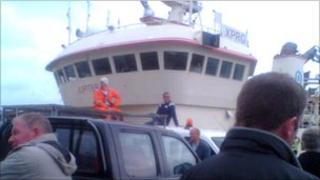 Scottish fishermen are to boycott a meeting in the Faroe Islands over the host country's decision to unilaterally increase mackerel quotas.
The Scottish Pelagic Fishermen's Association said it wanted to send a "very clear signal" the move endangered the future viability of the stock.
Tuesday's meeting is due to discuss the fishing of mackerel and herring in the North East Atlantic.
Tory MEP Struan Stevenson will attend the meeting to highlight concerns.
Representatives of the Scottish fishing industry will meet with MSPs in Edinburgh on Thursday to brief them on the dispute.
A Faroese vessel, Jupiter, was blockaded by Peterhead fishermen last month.
They were angry boats from the Faroes, and Iceland, are fishing much larger amounts of mackerel in their own waters and trying to land them in Scotland.
Last year mackerel brought £135m into the economy, making it the Scottish fleet's most valuable fish.