Turnover up for Scottish Enterprise firms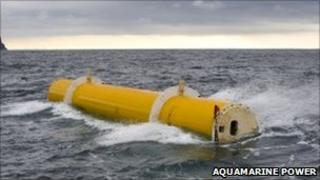 Companies supported by Scottish Enterprise increased turnover by a total of £376m last year, according to figures released by the agency.
Scottish Enterprise's latest annual report also said it helped more than 900 firms find new markets overseas.
And about 900 companies received advice or support to develop new products, services or ways of working.
Seventeen new start-up firms which have the potential to reach £5m turnover in three years were also supported.
Last year also saw the largest ever R&D grant from Scottish Enterprise for a renewable energy project, with Edinburgh-based Aquamarine Power receiving £975,000 towards its £4.6m project to develop a wave power device.
Other companies to receive R&D support included Dundee-based Axis Shield, FMC Technologies in Dunfermline, NCS Survey in Aberdeen and Hammerfest Strom in Hillington.
Crawford Gillies, chairman of Scottish Enterprise, said: "Over the last year, when the recession was really biting deep, many of our companies continued to set their sights on business growth.
"The economic conditions, however, meant that companies needed our support more than ever, both to tackle the issues they were facing and identify new opportunities to grow their business."
He added: "To achieve such high levels of turnover growth under such difficult conditions is testament to the ambition and leadership of our Scottish businesses."