Scottish independence plan 'an election issue'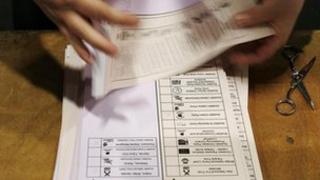 A bill to hold an independence referendum will not be put to a vote before the 2011 elections, the Scottish government has confirmed.
Deputy First Minister Nicola Sturgeon told BBC Scotland the party would campaign on the issue at the Holyrood elections and "let the people decide".
Ms Sturgeon said it had become clear that plans for a referendum bill could not get through the current parliament.
Opposition parties accused the Scottish government of "running scared".
The bill for a referendum is due to be published but will not be put to an immediate vote.
The SNP administration is due to unveil its programme for the final year of the Holyrood session on Wednesday.
The party had pledged to hold a referendum before entering the 2007 election, with a preferred date for the vote being St Andrew's Day on 30 November this year.
Ms Sturgeon told BBC Radio Scotland's Good Morning Scotland programme: "The opposition parties have made it very clear that they want to block a referendum bill.
"The SNP wants to have a referendum, we think more powers for the Scottish Parliament - in particular more economic powers - are vital in this economic climate.
"The decision for us is whether we let that bill fall foul of opposition game-playing or whether we take it to the people of Scotland at the next election and let them be the ones to decide."
Scottish Labour leader Iain Gray called the move "an embarrassing and humiliating climb-down".
He said: "They should give up on this idea because they have failed to convince either the parliament, or indeed the people of Scotland, that this is the right time for this referendum.
"This has always been about the interests of the SNP, it has never been about the interests of Scotland."
The Liberal Democrats said fighting the election on the grounds of independence would be "welcome territory".
The proposed independence bill has been consistently opposed by the Tories, Liberal Democrats and Labour at Holyrood.
The first question in the bill would see voters asked if they backed increased powers for the Scottish Parliament.
The second question would then ask whether the parliament's powers "should also be extended to enable independence to be achieved".