SNP rethink over Scottish referendum plans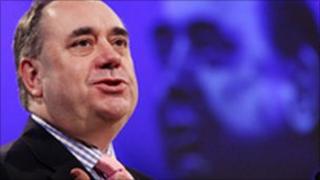 The Scottish government is set to shelve plans for an independence referendum before next year's election.
The bill for a referendum is due to be published, but will not be put to an immediate vote in parliament.
Opposition leaders have described the move as a "humiliating climbdown" for the Scottish government.
However, ministers said the measure would face certain defeat at Holyrood and would instead be a central issue in next May's Scottish elections.
The SNP administration is due to unveil its programme for the final year of the Holyrood session on Wednesday.
The party had pledged to hold a referendum before entering the 2007 election, with a preferred date for the vote of St Andrew's Day on 30 November this year.
'Powerful position'
However, a spokesman for Mr Salmond said: "Tactically, we are deciding whether to introduce a bill to allow the unionist parties to vote it down or rather to publish the bill and concentrate on canvassing public support.
"A new re-elected SNP government will be in a powerful position to secure passage of the referendum, having successfully mobilised the people over the blocking tactics of the unionist parties."
It follows a meeting of party MSPs in Perth last week where opinion on the issue was canvassed.
In response to the rethink, Scottish Labour leader Iain Gray said: "Alex Salmond's bill has turned into a white flag rather than a flagship policy.
"This climb down is a humiliation for him and embarrassment for his government.
"It is the ultimate vanity project to waste millions, publishing a bill on a referendum nobody wants and not even bring it to parliament."
Second question
A Liberal Democrat spokeswoman added: "We welcome the SNP fighting next year's election solely on the grounds of independence.
"Alex Salmond has said that he is now going to do this and this is very welcome territory for us."
Mr Salmond published details of the two-question referendum in February, which would cost about £9.5m, in a draft bill.
The first question would see voters asked if they backed increasing the powers of the Scottish Parliament.
The second question would then ask people if they agreed that "the parliament's powers should also be extended to enable independence to be achieved".
But the proposed bill has been consistently opposed by the Tories, Liberal Democrats and Labour at Holyrood.