NUS: Student hardship in Scotland at 'crisis level'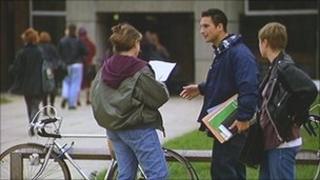 Student hardship in Scotland has reached "crisis levels", a survey by the National Union of Students (NUS) has suggested.
They found that of the 7,400 students asked, 62% said a lack of money was damaging their studies.
More than half said they had been forced to use credit cards and other forms of commercial credit to get by.
The union has called for urgent reform of financial support services offered to students.
More than a third (36%) of those questioned in the survey said they had considered dropping out due to financial worries.
'Lowest levels'
Nearly two thirds said they worried frequently or all the time about money.
NUS Scotland president Liam Burns said: "The student support system is broken and student hardship is at crisis levels.
"Studying should be based on ability to learn, not the ability to pay. Without fundamental and urgent reform of student support, explicitly increasing the amount students receive, this will never be the case."
The report, titled Still in the Red, surveyed students from across all backgrounds.
It found that 68% were working more than the 10 hours per week recommended in the last major reform of student support, the Cubie report.
Of these, 47% said that combining work with study was having a negative impact on their studies.
More than 600,000 students will be starting the new academic year this week at colleges and universities in Scotland.
Mr Burns added: "Scottish students live with some of the lowest levels of financial help in the UK.
"They are being pushed into poverty simply because they want an education.
'Positive discussions'
"Our report has exposed how our broken financial system for students hits the poorest hardest.
"Scottish university students receive the lowest support compared to the rest of the UK and college students can't even be sure they'll receive enough to pay the rent from month to month."
The findings come despite the abolition of tuition fees for students in Scotland, unlike south of the border.
A Scottish government spokesman said: "Even before the recession hit, the Scottish government recognised the difficulties students face.
"We abolished back-door tuition fees, invested an additional £30m in student support for the coming year and worked closely with NUS Scotland to ensure this money is targeted as effectively as possible."
Scotland's budget is forecast to shrink by £3.7bn in real terms over the next four years because of Westminster cuts, the spokesman added.
He went on: "We remain committed to making a real difference to students' lives and will continue the positive discussions we have with the NUS.
"However, these conversations have to recognise the financial reality Westminster's cuts have imposed on Scotland."