Scottish rider injured at Burghley Horse Trials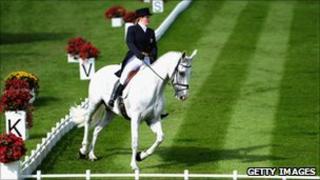 Scottish event rider Nicola Malcolm has been airlifted to hospital after falling from her horse during the Land Rover Burghley Horse Trials in Lincolnshire.
The 22-year-old, from Renfrewshire, had been competing in the cross-country phase of the prestigious four-star event aboard her grey gelding McFly.
The fall happened at the Birch Hedge, fence 19.
The competition was stopped for about an hour while she was treated.
She was taken to hospital in Coventry by air ambulance suffering from a head injury.
An event spokeswoman said: "The rider's condition is stable following a head injury suffered when the horse fell during the cross-country phase."
She added: "The horse was not injured."
Course designer Mark Phillips said: "My information is that the horse stood off a little too far, hit the fence with its hind legs and the impact catapulted Nicola into the air."
Two riders - Frenchman Eddy Sans and Ireland's Louise Lyons - were held on the course behind Malcolm, with 24 combinations still to start their cross-country rounds.
British rider William Fox-Pitt, who lies in third place ahead of the show jumping finale, said: "The information we were getting back was that they were getting Nicola away safely.
"It's when you know nothing about what is going on that it is horrific."
Burghley and Badminton are the showpieces of British eventing's season, and are two of only five annual four-star competitions worldwide.