Export agency 'generated £500m to Scottish economy'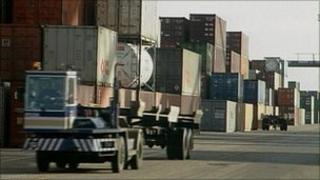 The Scottish government's exports agency has said it generated more than £500m to Scotland's economy last year.
Scottish Development International (SDI) said it had also managed to secure 5,500 jobs despite the global recession.
As well as attracting investment, the agency said it had helped 900 Scottish companies to internationalise.
SDI is controlled by the Scottish government, Scottish Enterprise and Highlands and Islands Enterprise (HIE).
Anne MacColl, interim chief executive of SDI, said: "As a nation, Scotland has always punched above its weight in attracting inward investment, although winning this type of investment has become more challenging as global markets suffered during the recession.
"Despite this, we have hit our targets and are encouraged by the range of new investment projects we've helped to secure during the last year, such as those by Skykon, Glaxo SmithKline, Ryanair, Tesco Personal Finance and Stena.
"This type of investment has secured over 5,500 planned jobs for Scotland and shows that Scotland remains attractive to investors across a wide range of sectors."
'Global uncertainty'
The latest results also indicate that SDI helped more than 900 Scottish companies to internationalise, up 100 on last year's figure.
Scottish companies will generate a projected £220m in sales from participation in exhibitions, trade missions and learning journeys facilitated by SDI.
Enterprise Minister Jim Mather said the results underlined the significance of the body's work in promoting Scotland on the international stage.
He said: "Securing continued inward investment at a time of global economic uncertainty is a commendable achievement, and the challenge now with a fragile recovery under way is to sustain this level of performance and steer Scotland towards long-term economic success."