Swinney warns of £3.7bn Scottish budget cuts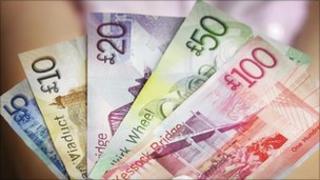 Scotland faces £3.7bn of cuts over the next four years, Finance Secretary John Swinney has said.
He issued the warning ahead of a series of budget meetings with councils, NHS workers and business, due to take place this week.
The statement comes after the Independent Budget Review group said in July that up to 60,000 public sector jobs faced the axe.
The Scottish government's budget will be published in November.
Describing them as "Westminster cuts", Mr Swinney blamed both Labour and the coalition government for the dramatic drop in spending.
He said: "In dealing with these Westminster spending cuts, we have already said our budget priorities are economic recovery, protecting front line services and developing a low carbon Scotland as part of our efforts to drive forward the country's massive renewable energy potential."
'Focused minds'
The Independent Budget Review group warned that no area of public services should be spared from the prospect of cuts.
The group's report said cutting the "huge" cost of public sector pay and the range of universal benefits enjoyed by Scots like free personal care, concessionary travel and eye tests needed to be looked at.
It also argued the Scottish government's council tax freeze did not appear to be "sustainable" in the long term.
Mr Swinney said the report had "focused minds on the challenges we currently have to deal with in a period of reduced UK public spending".
Ahead of this week's meetings, Mr Swinney said: "I now want to hear first hand what people think of the challenges we face."
The finance secretary and Crawford Beveridge, who chaired the independent budget review, are meeting public, private and voluntary sector representatives in Livingston, West Lothian, on Tuesday night.
Similar meetings are also planned for Aberdeen, Galashiels, Glasgow, Kirkintilloch and Kirkcudbright.
Mr Swinney said: "We will not know the Scottish government's budget until the UK comprehensive spending review in October.
"When I publish the Scottish budget in November I am determined it will reflect the feedback we receive from West Lothian and other events around Scotland."