Scotland's councils could face pay dispute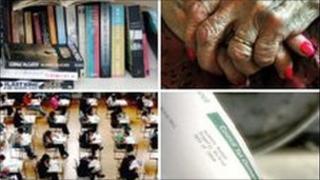 The threat of a pay dispute at Scotland's councils has moved a step closer, it has emerged.
The largest council union, Unison, is to discuss how to respond to the imposition of a three-year pay deal with the other council unions, the GMB and Unite, next week.
The three unions want to work jointly to oppose its imposition, which they say has left members angry.
Unison wants their original pay offer reinstated as a basis for negotiations.
The council umbrella body, Cosla, said councils had to impose a pay deal to give them certainty for financial planning and budget management.
The deal would see 150,000 workers get a rise of 0.65% backdated to April, followed by a pay freeze for the next two years.
Unison had originally wanted a 3% pay rise this year, or an increase of £600 for the lowest-paid workers.
The union said the original offer made by the councils - a 1% increase this year, followed by a pay freeze next year and a 0.5% rise in 2012-13 - had not been officially rejected.
They said they had wanted to negotiate but were shocked when the offer was withdrawn and a less generous deal imposed last week.
And at a conference at the weekend, Unison general secretary Dave Prentis will also warn Scottish politicians to ignore the "ice cream van economics" of the recent Independent Budget Review report.
'Expect better'
He will tell the conference in Glasgow that the country's political leaders will be judged on how far they distance themselves from the July report and fight to protect the services that people rely on.
He said that the report painted a vision of a future "where services are privatised or charged for, if they are there at all" and where 35,000-60,000 jobs are cut.
He added: "A proper review of the budget would have started by looking at the services we need, then working out how you raise the money to pay for them.
"You don't look at a government's finances and say 'we've got this much, what can we get for it?'
"That's what kids do at an ice cream van. We should be able to expect better from experts looking at a country's finances."
The Unison conference will see more than 200 union and community activists from around the country share experiences about threats to local services and discuss how to develop the union's Public Works campaign.