Veteran returns to RAF Leuchars after 67 years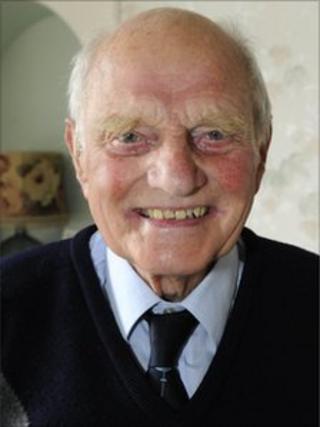 As he took off in his Spitfire from RAF Leuchars in 1943 on a mission to enemy-occupied Norway, a young Flying Officer never imagined it would take him 67 years to return to the Fife base.
But on Saturday 11 September Alex Anderson, 89, will finally return.
The airman will take his place alongside other veterans to watch the RAF Leuchars Airshow.
He has also, for the first time, written down an account of his wartime exploits.
After seven decades of thinking his World War II adventures were not any more interesting than anyone else's, Alex, from Prestwick, has been persuaded by his extended family not just to go back to Leuchars for the annual Airshow but to write down his extraordinary story.
Flying Officer Anderson was a member of 541 Squadron PRU (Photo Reconnaissance Unit).
He was based at RAF Benson in Oxfordshire, but volunteered to go to RAF Leuchars in the hope that he would be able to go home to Ayr to see his fiancée, Joyce.
'Dangerous mission'
However, he had only been there four days when on 12 January 1943 he was briefed to fly to Norway.
The mission was to find the German battleship the Scharnhorst which had disappeared from its home port of Keil.
The pilot flew down the coast of Norway until he reached Kristiansand checking the fjords and harbours with no sight of the Scharnhorst.
As he flew round Kristiansand for a second time to take the final photographs he was attacked by two Focke Wulf 190 fighters.
As the bullets tore into the Spitfire, the aircraft caught fire.
Alex later said: "I knew then I was not going home, at least not that day.
"At something like 600ft I inverted the plane and dropped out.
"Unfortunately, the microphone cord and my foot jammed for a moment.
"Then I was free, my parachute opened at about 300ft and I landed 10ft up a tree."
The Spitfire crashed into Lake Isefjaer in southern Norway and vanished beneath the ice.
For four days and nights the RAF pilot evaded the Germans. He said: "I slept where I could but had very little food or water.
"Some Norwegians helped me as best they could, but one in particular, Harald Johnsen, risked everything by helping me.
"We all knew the price that could be paid for helping me escape would be certain death."
Alex was also struggling with a bullet wound in his left foot and shrapnel wounds to his right foot and left arm, four pieces of which are still in his arm to this day.
However, he was eventually captured, ending up in the infamous Stalag Luft III.
There, Alex helped with the "Wooden Horse" escape, where a vaulting horse, apparently being used for PE lessons, was actually being used to carry men hiding inside to an escape tunnel.
Towards the end of the war Alex endured the infamous "Long March".
Thousands of POWs were forced to march for four days in appalling weather with temperatures of -25c to new camps as the German Army retreated in the face of the Russian advance.
He was finally released by the Russians and flown back to Britain in late spring 1945.
He married Joyce on 24 August 1945.
Alex went on to teach Maths and Science in Maybole, Ayr and Prestwick.
He has a son and daughter, four grandchildren and one great-grandchild. His wife of 63 years, Joyce, passed away in February 2009.
His family will be with him at Leuchars as he finally reaches his former base nearly seven decades after leaving it.
In 1963 divers from the British Army camp at Isefjaer found his Spitfire at the bottom of the fjord.
Alex was traced from the plane's identification plate and the RAF flew him back to Norway later that year.
There he was reunited with Harald Johnsen, whom he thought had been killed by the Germans for helping him back in 1943.
Alex is now the proud possessor of his Spitfire's manufacturer's identification plate and a piece of the fuel tank mounted on a wooden plinth.
He has also been given back the RAF wings he took off his uniform in Norway to shield his identity.
Air Commodore Harry Atkinson, Air Officer Scotland and Station Commander of RAF Leuchars, said: "Flying Officer Anderson's valour and fortitude against frightening odds is an example to us all, so too is his humility and stoic sense of duty.
"He was sent at short notice on a mission to gather intelligence at a location which was inaccessible to ground forces; indeed, a mission that would not be unfamiliar to RAF aircrews currently operating in Afghanistan.
"I am very pleased that he is returning to RAF Leuchars with his family for the Airshow on 11 September and look forward to welcoming him back to the Station after his 67-year absence."