RBS move to boost Scottish jobs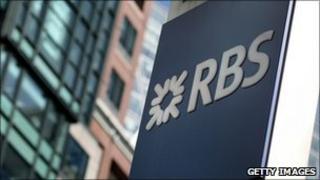 Royal Bank of Scotland has said Scotland is likely to gain jobs as a result of major restructuring, despite news that 3,500 UK posts will be lost.
It is understood staff numbers will be boosted at the bank's mortgage centres in Greenock and Edinburgh.
The news comes as RBS said it would close up to 12 offices in England, focusing activities on 10 others.
About 1,000 IT workers are expected to lose their jobs along with 2,500 staff involved in back office operations.
Some staff in Scotland will also have to go as part of the cuts.
However, the consolidation of the back office support division is expected to bring "a few hundred" jobs to Greenock and the Gyle in Edinburgh.
The impact of the change is to raise Scotland's share of RBS back office functions from 20% to 30% of its total.
'Employment opportunities'
The division, known as business services, had about 27,000 employees worldwide when the restructuring programme began last year.
Just under 15,000 people now work in the division. By the time the bank's restructuring plan has concluded, about 4,500 such posts will be based in Scotland.
The changes are expected to be completed by the end of 2012.
Responding to the news, John Swinney, Scotland's finance and sustainable growth secretary, said: "We understand that the overall impact of today's announcement for Scotland in terms of employment is neutral, although we are of course very concerned for RBS employees who may be adversely affected and their families."
Mr Swinney welcomed news that there were no closures in Scotland, and added that the Scottish government would continue to liaise with the company "to ensure that employment opportunities in Scotland are maximised".
'Difficult time'
He added: "The Scottish government will continue to support Scotland's financial services industry in maintaining its real strengths and in adapting to change."
On Wednesday, Standard Life announced it is to reduce its employment numbers by a net 500 - 600 posts cut and 100 being created. Most of these will be in Edinburgh, and many are also in IT support.
A week ago, RBS's insurance division, including Direct Line, announced 400 job losses.
Scottish Labour's finance spokesman, David Whitton, said: "This cuts announced today will affect RBS staff across the United Kingdom, including Scotland.
"It is essential that the bank works with the trade unions and does everything possible to support its employees through what will be a very difficult time."
The bank has been told by the European Commission to reduce its number of branches over competition concerns, after it was bailed out by the UK government during the financial crisis.
The government still holds an 84% stake in the bank.
RBS reported a loss of £24.1bn for 2008, the largest annual loss in UK corporate history.
However, it has since returned to profit. In the first half of 2010 it made £1.14bn.