More Pakistan flood aid pledged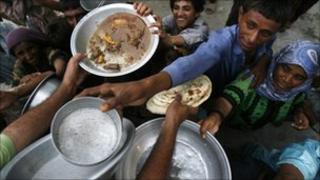 The Scottish government has pledged an extra £300,000 to help the relief effort in Pakistan, where floods have claimed more than 1,600 lives.
The increased funding takes ministers' support of the emergency humanitarian effort to £807,000.
First Minister Alex Salmond made the announcement at Edinburgh's Blackhall Mosque.
He said the funds will go to 15 Scottish organisations on the ground, helping the victims of the floods.
'Incredible suffering'
Mr Salmond said the severity of the crisis was immense and Scottish organisations were working tirelessly to save lives and rebuild communities.
"It is crucial that people across Scotland continue to give generously and support the aid agencies," he said.
"The scale of suffering in Pakistan is incredible and so far people in Scotland have donated, with typical generosity, more than £3.9m to the Disasters Emergency Committee appeal.
"The holy month of Ramadan encourages Muslims to reflect on the poor and hungry throughout the world and the burden they bear.
"And this year's Ramadan fast is a particularly poignant occasion for many Muslims, as we remember those in Pakistan whose lives have been left devastated.
The groups set to receive a share of the increased funding are Islamic Relief, Concern Worldwide, Christian Aid, Save the Children, the University of Glasgow, UCare Foundation, SCIAF, Mercy Corps, Oxfam, CBM, British Red Cross, Sightsavers, Healing Wounds, Islamic Centre Glasgow and Edinburgh Direct Aid.
Mervyn Lee, executive director of Mercy Corps, said the money was desperately needed.
He said: "The floods have devastated communities on a massive scale, with over five million people - the equivalent to the population of Scotland - made homeless and now facing the very real threat of water-borne disease.
"The Scottish government funds, like all the donations we receive, will go straight to help the people of Pakistan, many of whom have lost everything."
The Scottish government said its total support for Pakistan this year has now risen to more than £1.2m.
This includes £400,000 of development funds allocated to projects that help communities out of extreme poverty.
'Strengthening links'
The Scottish government has said it is also committed to strengthening links between Scotland and Pakistan, beyond the current crisis.
It has published a Pakistan Engagement Plan to build on the historic and modern links between the two countries in areas of culture, business, trade and investment and tourism.
Pakistan Consul General in Scotland Shehryar Akbar Khan said: "I wish to acknowledge with deep gratitude the Scottish government's generous and timely assistance for the flood affected people of Pakistan.
"On behalf of Government of Pakistan, I also welcome the publication of the Scottish government's Pakistan Plan.
"Pakistan attaches great importance to its relations with Scotland and is keen to develop them even further."