One in nine Scottish schools 'half empty'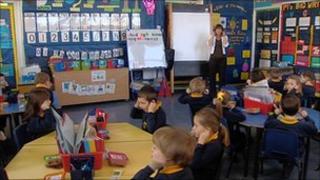 One in nine primary schools is operating with at least 60% of its places unfilled, figures obtained by the BBC suggest.
A leading authority on local government predicts widespread closures as councils try to cope with expected unprecedented cuts in public spending.
Prof Richard Kerley, of Queen Margaret University in Edinburgh, said closures were "inescapable".
Typically education accounts for about 40% of a council's entire budget.
However, it is not ringfenced against the anticipated major cuts in public spending.
Audit Scotland figures indicate the extent of the under-occupancy in schools.
It is most common in the Highlands and Islands but also evident in urban areas such as Dundee.
Prof Kerley told BBC Radio Scotland's Good Morning Scotland programme: "We can anticipate more proposed school closures both in cities and in rural areas - it's inescapable.
"Local authorities will be looking very hard at every school and there are quite a few that are operating at under 50% of capacity."
'Kept informed'
The Scottish Rural Schools Network is appealing to politicians in local and central government to value the quality of education in small schools and consider the potential affect on a village or island community if closure went ahead.
Eleanor Coner, from the Scottish Parent Teacher Council, said parents had to be kept informed from the start.
She said: "I'd like to see parents consulted properly when decisions like this have to be made.
"I don't think that education should be not suffering just as much as other areas in the budgets, we've got to think properly and there are a lot of schools that are operating well below capacity."
Education convener for Perth and Kinross Council Liz Grant said local authorities will have to look at every under-used school and be prepared to make some unpopular decisions.
She said: "We have been in a difficult financial climate for the last 18 months because of the banking crisis but that's really just about to hit local authorities now.
"All local authorities across Scotland are going to have to make some very painful and some very unpopular decisions."
A Scottish government spokesman said decisions on school closures were a matter for individual councils.
He added: "We have introduced new legislation to ensure any council that wishes to close a school carries out a robust, open and fair consultation with the local community, with educational benefits at the heart of the process.
"The legislation also introduces a presumption against the closure of rural schools."
Local government organisation Cosla said there would be no sacred cows in the search for savings.
A spokesman said: "It is interesting that the focus is now on the number of schools with spare capacity, when in recent years councils have faced heavy criticisms both locally and nationally for trying to close or amalgamate schools.
"In years to come local authorities will be between a rock and a hard place and will have no choice but to make more extremely difficult and potentially unpopular decisions.
"However, the exact extent to which councils will be forced to make savings will be determined by the Scottish budget which will be debated by the Scottish Parliament in the months to come."