Clearer long-term focus needed for children in care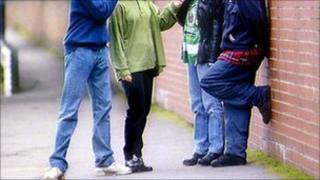 Children in long-term care need to get more help to reach their full potential, according to a new report.
The Audit Scotland study said councils, NHS boards and those dealing with children in care required "a clearer focus" on long-term needs.
It also said councils needed a better understanding of the costs so they could provide better value for money.
Local authority body Cosla said the report was out of date and overlooked the effort being put in by councils.
The report for the Accounts Commission and the Auditor General for Scotland said children in care cost Scottish councils more than £250m a year.
With 1,600 children in care at any one time in Scotland, that is at least £156,000 per child, it said.
But the report added that councils could not quantify all the costs involved - or if they were getting the best value for money.
The report said: "Some children thrive, but many have poor educational attainment, experience major problems as adults, experiencing time in jail, unemployment, homelessness and mental health problems."
It said there needed to be better emphasis on the long-term outcomes and life chances of children in residential care.
Clear strategies
John Ballie, chair of the Accounts Commission, said it was important that those providing their care acted as "corporate parents".
He added: "Residential care cannot be expected to fix all the difficulties faced by vulnerable children and their families, but there is a lot that councils and their partners could be doing to improve these services."
He said councils needed to have clear strategies and plans in place supported by good information about the effectiveness and costs of services.
The Auditor General for Scotland, Robert Black, said managing services with a long-term focus did not mean necessarily spending more money.
A Cosla spokesman said: "This report would have been more relevant had we not already accepted the findings of the National Review of Residential Childcare (NRCCI) which was published last year.
"The NRCCI involved a wide range of partners and produced a well thought out and balanced report that we are acting on.
"However, we cannot deliver change overnight, and the sad fact is that we continue to wrestle with the effect on families of problems such as drug, alcohol and other forms of abuse that have bedevilled Scottish society for generations."