The Scheme star jailed over drugs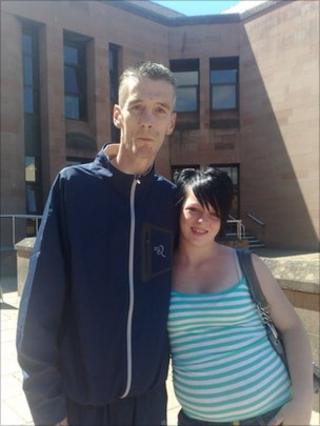 A woman who features in BBC Scotland reality TV show The Scheme has been jailed for 17 months after breaking a court order to stay off drugs.
Dayna McLaughlin, 19, appears in the controversial fly-on-the-wall show which records life on an Ayrshire housing scheme .
She had been serving a drug treatment order but failed screening tests.
McLaughlin was jailed for the original offences of shoplifting and possession of heroin.
The drug testing order was made in May after McLaughlin admitted shoplifting from Marks and Spencer and Asda in Kilmarnock, possessing heroin at the town's Bowhouse prison and failing to appear in court.
After failing to stay off drugs, the sheriff, at Kilmarnock Sheriff Court, sentenced McLaughlin to a total of 17 months detention.
Her boyfriend Marvin Baird, 30, who also appears in the series, was in court but could not attend the private hearing.
Baird, McLaughlin and pet dog Bullet were among the residents of Kilmarnock's Onthank estate featured in the series.
The first episode attracted more than 300,000 viewers while more than 500,000 watched the second.
The final two episodes, which were to be included in a repeat of the series, have been postponed for the second time over fresh legal proceedings affecting another "star".
Last month, the BBC took legal action to stop pirate copies of the unseen episodes of the show from being distributed before they were due to be shown on TV.