Number of re-offenders in Scotland hits 10-year high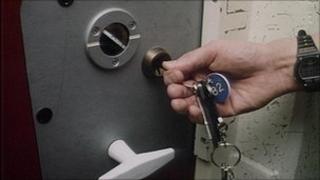 The number of people who re-offended within two years of a conviction has reached its highest level in a decade.
The latest statistics published by the Scottish government showed that of the 53,260 people convicted in the courts in 2006/07, 23,419 re-offended.
Although the numbers were up, the re-offending rate within two years dropped to 44%, down from 45% the year before.
However, more than 60% of those who were jailed for their crime went on to re-offend within two years.
That figure jumped to 72% for those handed jail terms of less than three months.
Justice Secretary Kenny MacAskill said the figures were evidence short sentences did not work.
Community service
He said community-based punishments were more effective at cutting reconviction rates.
The Scottish Parliament recently passed proposals which will phase out jail sentences of three months or less in favour of tougher community sentences.
The statistics, compiled by Scotland's chief statistician, revealed that 44% of those convicted of a crime re-offended within two years, down 1% on the previous figures.
There was also a fall of 1.5% for those re-offending within one year of a conviction to 30.9%.
According to the figures, 42.5% of those who were given community service orders re-offended within two years.
Among those handed probation by the courts, 57.8% re-offended. However, 61.6% of people jailed committed further offences within two years.
Justice Secretary Kenny MacAskill said: "The key to breaking the cycle of re-offending can be found in these statistics.
"Short sentences simply don't work for low level offenders. They are both ineffective and of no practical benefit to communities."
He added: "Community-based sentences work.
"These statistics show they can help prevent offenders committing crime again in the future - and we're increasingly seeing the benefits to be gained for the community by getting these offenders out doing some hard work rather than sitting for a couple of weeks in a prison cell."
'Serious criminals'
Re-offending rates were higher for men than for women across all age groups, with 45% of male convicts re-offending within two years compared with 36.8% of women.
Those with dishonesty-based convictions, such as housebreaking and shoplifting, were the most likely to re-offend, with 58% obtaining further convictions within two years.
By contrast, only 22% of sexual offenders were likely to be reconvicted within two years.
Labour's community safety spokesman James Kelly said the figures proved the folly of the government's justice plans.
He said: "Kenny MacAskill's approach to dealing with re-offending is a recipe for disaster. It is ludicrous to suggest that these figures justify the SNP approach on community sentencing.
"Claims that re-offending for community sentences is lower don't stand up to any scrutiny because those who are given custodial sentences rather than community sentences have usually already re-offended many times - they are by definition more serious criminals."