New Edinburgh-Glasgow rail link 'to create 130 jobs'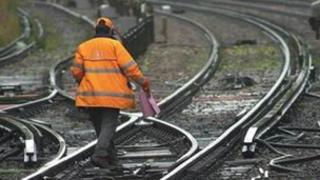 A new rail line linking Edinburgh and Glasgow via Bathgate and Airdrie will create 130 new jobs, according to ScotRail.
The line is due to open in December. Among jobs on offer are train drivers, station staff and ticket examiners.
More than half the jobs will be based in Bathgate. The remaining 56 posts will be recruited across the new route.
ScotRail managing director Steve Montgomery described the new route as "great news".
The line, which includes three new stations, has been funded by the Scottish government to the tune of £300m.
Transport Minister Stewart Stevenson said: "If we want to encourage more people to use public transport then the delivery of projects like Airdrie-Bathgate is crucial.
"We can already see rewards for our economy through these jobs which will not only bring benefits to those gaining new employment."
Earlier this year the rail union the RMT took strike action over plans to use ticket examiners rather than conductors as the second person on the new service to operate the doors.
The union claimed the safety of passengers would be a risk.